Reviewed by Rear Admiral Sonny Masso USN (RET) and Mr. Apollo Cobbins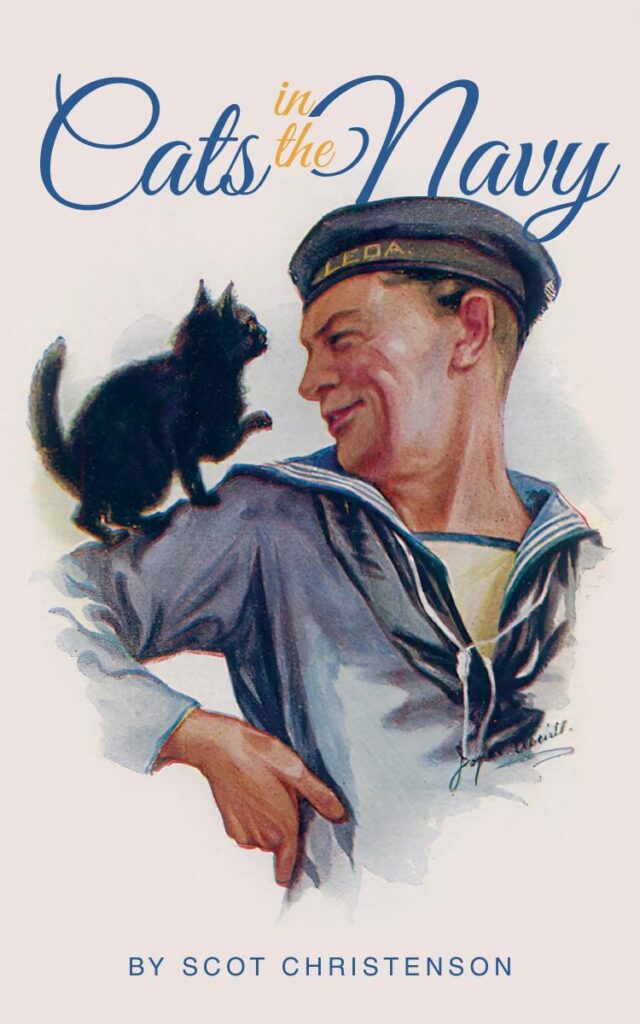 As the Executive Director of the Naval Historical Foundation, I receive scores of wonderful books on a fairly frequent basis to send out to our team of volunteers to read and write book reviews for publication in our Thursday Tidings Naval Historical Foundation weekly post. I generally filter through these books to personally select something with a topic I am highly
interested in to read and review. When I came upon Cats in the Navy by Scot Christenson, I knew this was not just the book for me to read, but also to share with my seven-year-old grandson, Apollo Cobbins.
Apollo is entering the third grade and loves cats, even more than dogs. He has his own cat, Kiwi, who is a warm and friendly companion. When I asked Apollo if he would like to participate in this book review, he jumped at the idea! It took him a few weeks to read Mr. Christenson's 176-page book, but he read every word and after each chapter, he called me to share what he had learned.
It is important to note that this is not a children's book, unless your child loves cats. In fact, it is
a well-researched-evidence-based compendium on how cats supported ships and crews
throughout time, in eradicating rats and mice, keeping food stores free of contamination, and
in keeping general morale high for the sailors who sailed the seven seas. Mr. Christenson's book
is expertly crafted with photos, sea-stories, and historically accurate vignettes that showed just
how important these felines were to so many factors of sea life.
Apollo was interested in the project naturally because of the topic (any topic) of cats, but also
because he comes from a Navy family (both grandfathers and great-grandfather served nearly
68 years of combined service). These were the reasons that drew his attention. Apollo's
comments spoke to the foundational aspects of cats on ships, and then specific stories shared
by the author. Cats were vacuum cleaners for eradicating unwanted rodents from foodstuffs.
Christenson explains that cats brought extraordinary sanitation to any ship that hosted them.
Apollo spoke to Christenson's tales of lore regarding cats as good-luck charms, cats as omens,
and cats as general companions. His favorite story was about how the crew of the USS Chicago
trained a pet cat to respond to the playing of the national anthem by sitting on its haunches
and saluting, dispelling the notion that cats could not be properly trained.
In Melville's White Jacket, or, The world in a man-of-war (1850), he depicts deck sailors as a cut
above savages in their demeanor and how they approached their watch standing and day to
day duties. These tough-as-nails mariners, from Melville's era, as depicted in Christenson's book, pocketed left over food to lure a cat or kitten to their bunks to sleep with. Rituals such as
visually clearing gun barrels to ensure a sleeping cat wasn't resting within, demonstrated
affection and protection for their feline shipmates. Sailors were "softies" toward their feline
shipmates and considered them to be good luck charms.
Scot Christenson has taken an over-looked and underappreciated topic and created a great
book of history about the heritage of our Navy's "ships of old". The practice of allowing cats on
Navy ships extended from the age of sail into the 1950's and beyond. Navy Commander, Neal
Kusumoto, then-Commanding Officer of the USS Vandergrift (FFG-48) was one of the last to
brag about their amazing mascot, named, "Seaman Jenna Vandergrift" (canine vice feline) in
the decade of the 1990's. Captain Kusumoto wrote a book about her, Seaman Jenna, whom he
took home and raised after his command tenure was completed. His touching obituary when
Seaman Jenna died underscores the attachment that mascot pets had on their human
shipmates.
Apollo's views about the book are:
 He learned and appreciated the importance of customs and traditions regarding cats
and mascots.
 He loved the stories showing how an entire crew sentimentally embraced these feline
shipmates.
 He was mesmerized by the various stories about cats missing ships movement, having
kittens (one story tells about a cat having kittens onboard a P-2 Neptune Aircraft), and
how they quickly and affectionately warmed the hearts of their crews.
These stories collected and shared by Scot Christenson humanized and softened the hardtack
image of sailors sailing the high seas in the age of sail—while creating a bridge to more modern
times.
In short, my seven-year-old cat-loving grandson, Apollo, read every page, studied every
photograph, and loved the book. I did too.
You will as well.
---
Scot Christenson is the director of communications for the U.S. Naval Institute. He began his career as a television producer and journalist before going on to develop and manage media strategies for a wide range of organizations, including amusement parks, zoos, think tanks, and lobbying firms. He has written about history and pop culture for several periodicals. He lives in Alexandria, Virginia.
Cats in the Navy. By Scot Christenson (Annapolis, MD: 2022)