Jack Paxton (Ed.), St Johann Press, Haworth, New Jersey, 2018.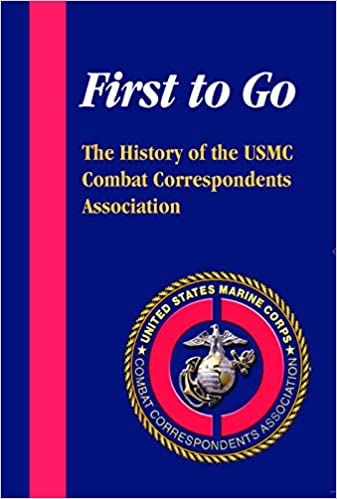 Reviewed by Chris Ketcherside
First to Go is a collection of anecdotes from the USMC Combat Correspondents Association, with no specific author credited. It uses significant material from a previous publication, Last to Know, First to Go by Garry Cameron, the unofficial history of Marine Combat Correspondents, published in 1987 by Charger Books. First to Go builds on that work by adding material from conflicts since 1987. The book's purpose, according to the preface written by Jack T. Paxton, Captain, USMC (ret), himself a correspondent, is to record the stories of combat correspondents and demonstrate that while they were correspondents, they were also Marines who could and did fight alongside the Marines they were reporting on.
While books written by combat correspondents abound, with Martha Gelhorn, Ernie Pyle, and David Halberstam being among some of the most notable, they focus on the specific conflict these correspondents were reporting. Only very recently, possibly because of the extensive coverage of the long conflicts in Iraq and Afghanistan has there been significant academic work about the combat correspondent as an institution and not just about the conflict reported on, such as Becoming the Story: War Correspondents since 9/11 by Lindsay Palmer, The Military and the Press: An Uneasy Truce by Michael S. Sweeney, and Pen and Sword: American War Correspondents, 1898-1975 by Mary S. Mander. First to Go belongs more in the latter category, although it does not attempt a definitive history of Marine Corps combat correspondence as a whole or as an institution, rather it is an extensive collection of individual narratives provided by the correspondents themselves.
The book starts with the establishment of a Marine publicity bureau in Chicago in 1907, spreading to the rest of the Corps by 1911 for the purpose of recruiting. It then outlines the initial administration of the publicity bureau, and how it recruited reporters and submitted stories. This is all covered in the four pages of chapter one. Chapter two discusses World War II (World War I is inexplicable left out) where the book reveals its purpose in presenting the who, what, where, and when of individual correspondents. After briefly discussing their training, this chapter details who the correspondents were by name, where they went, and what they did there, primarily reporting on and often participating in the fighting. The book then moves chronologically over the next five chapters, covering Korea, the Cold War, Vietnam, world hotspots which are Lebanon, Grenada, and Panama, and the War on Terror. The bulk of these chapters is composed of first-person narratives of correspondents in those conflicts, and further details of other
correspondents who were there and what they did.
Chapter 8 covers the relationship between Marine combat correspondents and Leatherneck magazine, the magazine by Marines, for Marines. Like the former chapters, this chapter focuses on individuals and what they contributed to the magazine from its first publication in 1917 until now. The last chapter is a collection of interviews and first-person narratives of combat correspondents from WWII through the War on Terror. These are not directly connected to previous chapters but it seems they would have been better suited there. Their placement in chapter 9 seems as if they were put in at the last minute so to be included, but those narratives might have been better incorporated into their respective conflict.
This is not the only fault of the book. Above all else, First to Go is badly in need of editing. Almost from the beginning the reader encounters clumsy, confusing sentences, which is very surprising since undoubtedly the authors, all correspondents, were trained in writing clear and concise sentences. None the less, sentences such as this from page 8 abound, "The Marine Corps never before had experienced a program wherein specific individuals were recruited and old-timers never had seen the type of relationship Gen. Denig had with his correspondents."
The cutting and pasting of the previous work, Last to Know, First to Go, with this expanded book also needs some attention to detail. On page 9, where the book discusses where correspondents for WWII were sent, has this glaring example, "Seven of these, however, were slated to go to Company X, a "mystery unit." More on this later." No more is said about Company X in the remainder of the book.
Also surprising for a book by correspondents who pride themselves on obtaining multiple sources for a story (as discussed in the book) is that there are no citations at all. Most block quotes are set apart only by a different font. There are quotations added ostensibly for narrative to demonstrate the opinions of Marines in general, but these are not cited nor explicitly described as created rather than cited. Given what the book sets out to accomplish, citations are not strictly necessary, but on page 20 the book describes a correspondent that had a fuel drop tank for a P-38 converted with a glass bubble so he could fly in it over a battlefield and take pictures. This anecdote challenges credibility and needs a citation, as it more likely falls into the category of a "sea story" than an actual event. Not for the least of reasons because the Marine Corps did not use the P-38, so it's unlikely Marine mechanics could have done this conversion and this correspondent have access to the aircraft to begin with.
Perhaps the most regretful criticism is what the book does not cover, which is what combat correspondents did between conflicts. For example, on page 48 First to Go discusses the infamous 1956 Ribbon Creek incident where six recruits drowned as a result of the negligence and abuse by their Drill Instructor. While the event is neatly summarized in a concise paragraph, this ends chapter 3 and there is no discussion of the involvement of Marine Corps public relations or of any combat correspondents.
First to Go is an excellent collection of primary source material about combat correspondents, such that the only index is of names of correspondents and the pages they are discussed. Most of these narratives are interesting and entertaining, but the book would be much improved by further edited editions.
Chris Ketcherside is a visiting professor of U.S. history at the Missouri University of Science and
Technology. He is currently ABD pursuing a PhD in American History at Saint Louis University.
---
Jack Paxton, now retired in Florida, is the Executive Director of the USMC Combat Correspondents Association.
First to Go: The History of the USMC Combat Correspondents Association. Jack Paxton (Ed.), St Johann Press (Haworth, New Jersey: 2018).