By NHF Director, Dr. William S. Dudley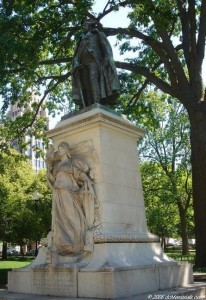 The Naval Order of the United States has teamed with the National Park Service to create a wayside marker to be placed alongside the statue of Commodore John Barry, U.S. Navy, in Franklin Park at 14th Street, NW, in Washington, DC. Although the statue has been standing since its dedication by President Woodrow Wilson in 1914, there has been no interpretive marker to explain to the public who Commodore John Barry was and why he is important today. The statue was created by sculptor John J. Boyle on a commission from the Ancient Order of Hibernians and other patriotic American groups of Irish descent. The wayside marker will be dedicated in Franklin Park on May 4, 2012, with a formal public ceremony.
John Barry (1745-1803) was born in County Wexford, Ireland, went to sea when still a lad, and had arrived in Philadelphia by 1760. When the Revolutionary War began, he was given command of the Continental Navy brig Lexington. He commanded several other Continental Navy ships, including the frigate Alliance, and won decisive victories over British warships and privateers. In 1794, he received an appointment as the senior captain of the new United States Navy. Barry supervised construction of the frigate United States. During the Quasi-War with France (1798-1800), Commodore Barry commanded a squadron protecting America's West Indies trade. Celebrated today as a founder of the U.S. Navy, he was a gallant warrior, a guiding force in shipbuilding and supply, and a mentor to the next generation of U.S. naval officers who would go on to fight in the Barbary Wars and the War of 1812.