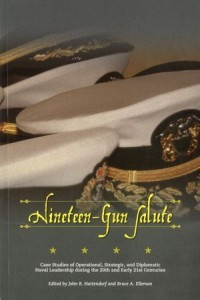 Edited by John B. Hattendorf and Bruce A. Elleman. Naval War College Press/Government Printing Office (2010).
Reviewed By Corbin Williamson
Nineteen Gun Salute is a collection of short biographies of American admirals who demonstrated exceptional leadership qualities during their naval service. The admirals were skilled operational and strategic commanders as well as diplomats. The work avoids the most well-known 20th century admirals such as Nimitz, King, and Halsey, though Spruance is included. Each admiral is identified by a single characteristic such as multilateral or honest, which serves to provide a useful collection of desirable traits when take in totality. A short summary of each admiral included follows.
William Sims was an early advocate of Anglo-American relations, an alliance that later became the "bedrock" of American grand strategy. William Standley was an efficient, economical CNO who aligned the Navy with a business mentality while successfully guiding a naval expansion program through the corridors of New Deal politics. William Leahy's blunt honesty combined with common sense helped him work well with people of differing opinions as the Chairman of the Joint Chiefs of Staff. Kelly Turner was not in fact 'Terrible' but was a skillful organizer whose intellect and hard work ethic served him well as did his singular focus on the objective.
Raymond Spruance's propensity to delegate and his ability to identify 2nd and 3rd order effects served him well in a series of fortuitous assignments. Thomas Kinkaid's broad perspective and discipline helped him as a planner and as a coordinator of large, joint operations on an aggressive timetable. Alan Kirk's skill at making powerful, well-connected friends aided him in the European Theater of Operations, where he sought the interests of the U.S. Navy over foreign organizations. Richard Conolly's enthusiasm and talent for empowering and encouraging subordinates helped him coordinate complex amphibious assaults.
During the Truman administration, Arthur Radford's willingness to forcefully advocate for his opinion played an important role in the creation of the Department of Defense. Due to his engineering background and openness to new technology, Arleigh Burke helped bring the Polaris missile program into service. Harry Felt's leadership was defined by his investment in subordinates and his willingness to express his views forcefully. Horacio Rivero's pattern of successful collaboration with a range of non-military individuals allowed him to achieve a "win-win" solution as Ambassador to Spain, a rare and honored posting for an admiral, during the 1973 October War. Thomas Moorer's ability to trust his subordinates and the loyalty he demonstrated toward them brought him repeated success. Richard Colbert's long term pursuit of multilateral partnerships played an important role in the creating STANVFORLANT and courses for mid-grade foreign officers at the Naval War College. Elmo Zumwalt secures successive tours in high-profile assignments through non-traditional thinking combined with a personable touch.
James Holloway III illustrates the value of extensive background experience in operational command at all levels. Carlisle Trost maintained readiness when many expensive programs had a call on the Navy's budget and cultivated a broad array of connections and contacts. Leighton Smith's pattern of honesty combined with an "aggressive, take-charge" disposition helped with his command of the NATO Bosnia campaign. Joseph Prueher's background in Southeast Asia and flight experience proved invaluable in handling the 2001 EP-3 crisis with China.
This reviewer identified several themes that were particularly visible in many of the admirals surveyed: the ability to work well with foreign officers, a willingness to present views forcefully, and skill in cultivating a large range of contacts both in and out of government service. A final short essay by the editors ties together the biographies. The editors note the shift in the 20th century from a purely naval command style to a system that almost necessarily involved foreign nations. The difference between operational leadership, exercised on the theater level, and strategic leadership, exercised on the national level, is highlighted. Given the focus of many of the early essays on the Pacific campaign, the editors argue that this campaign was a clear demonstration of skilled operational leadership guided by effective strategic planning and oversight. A final comment on the post-Annapolis education of many of the admirals surveyed is welcome, though perhaps expected.
On the whole this engaging work highlights many of the lesser known successful commanders in the 20th century U.S. Navy and the leadership qualities that aided them in their success.
Corbin Williamson is a graduate student at Texas Tech University with an interest in U.S. Navy public relations in the interwar (1920s-30s) period.