At the Naval Historical Foundation 2012 Annual Meeting, VADM Robert Dunn, USN (Ret) stepped down after 14 years as President. He will be succeeded by RADM John Mitchell, USN (Ret), who has served on the NHF Board for the past 2 years, and who was voted in as President at the annual Board Meeting.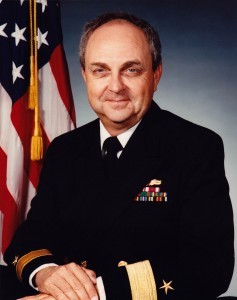 RADM Mitchell served in the Navy from 1964 to 1994, retiring as the Director, Strategic Systems Programs. He has a B.A. and B.S. in Electrical Engineering from Rice University as well as an M.S. in Physics from the Naval Postgraduate School. He began his career on board USS Columbus (CG 12) operating her Tartar and Talos Missile Batteries. Missile systems defined his career, as he was involved with the Polaris, Poseidon, and Trident programs. After retirement from the Navy, he worked for Bechtel National, Inc., rising to the position of Senior Vice President. While with Bechtel, he served as Deputy Director of the Los Alamos National Laboratory, in various General Manager positions for the Nevada Test Site, Y-12 HEU Plant, and the Yucca Mountain Project. He has served on the boards of prestigious institutions such as Pantex Plant, Savannah River Plant, Idaho National Laboratory, Bettis National Laboratory, and Charles Stark Draper Laboratory.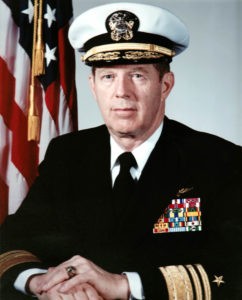 VADM Dunn succeeded ADM James Holloway as President of the Naval Historical Foundation in 1998. A 1951 graduate of the U.S. Naval Academy, he left active service as the top naval aviator, Deputy Chief of Naval Operations for Air Warfare, responsible for establishing materiel requirements and setting policies for the training, operations, management and personnel throughout the Navy's aviation establishment. During his navy career Vice Admiral Dunn commanded a large number of organizations, large and small, with extensive time airborne including combat in Vietnam. Most of his flying was in carrier based jet attack and fighter aircraft but he is also a designated helicopter pilot and has flown single and multi-engine props and turboprops and sailplanes. He has commanded a carrier squadron, a carrier air wing, a large amphibious ship, the aircraft carrier Saratoga and a carrier battle group. He has provided strong leadership for the Naval Historical over the past 14 years, including the launching of the Cold War Gallery, the Navy's first new exhibit gallery in 40 years. Recently, he led a fundraising drive with his USNA 1951 classmates that raised $51,000. We thank him for his service with the Foundation, and wish him well as he continues to research aviation safety issues, and writes book reviews for the Washington Times.