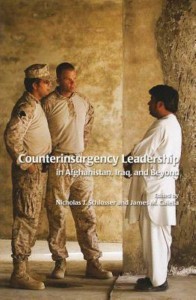 Edited by Nicholas Schlosser and James M. Caiella, Marine Corps University Press, Quantico, VA (2011) 204 pp.
Reviewed by Captain Roger F. Jones, USN (Ret.)
Schlosser and Caiella have assembled and edited a series of presentations at a Marine Corps University symposium in 2009, which carried the same title as this book. While the focus of the conference was on counterinsurgency ("COIN") leadership, other aspects of such operations were discussed as well. The participants were eight senior Marine and Army officers and twelve civilians with high-level government/academic experience, three of whom are retired Army officers, a lieutenant general and two colonels.
While the review included brigade, regiment, and battalion leadership, the most intensive focus was on the squad and company level. The most heavily emphasized conclusion of the participants was that adaptive junior officers are crucial to successful COIN operations because they have immediate, direct control over the interaction between the local population, insurgents, and the US military. Effective, sustained COIN can only be successfully accomplished when area non-combatants do not fear harm at the hands of American forces, and see their lives improved by ongoing actions that permanently eliminate insurgents from the region. These innovative lieutenants and captains need maximum flexibility to operate and the full support of their superior officers at higher levels to do so. Micromanagement and rigid adherence to standard combat doctrines that are not working will cause these officers to fail. Another interesting thought put forth was that command relief should be exercised more often but without the career-ending consequences that usually accompany such action. Not every commander has the knowledge and experience necessary to solve every problem correctly the first time – in other words, sometimes it is necessary to transfer an officer who is having trouble, without necessarily labeling him as incompetent and incapable of correction or improvement.
The sadly flawed results of the 2009 Afghanistan elections were fresh in the minds of the conferees, and they looked at this episode as "lessons learned." A corrupt government, elected or appointed, will undo much of the US COIN operations.
A lengthy chapter is devoted solely to a presentation by General Petraeus, loaded with data and important observations about the Middle East and the Horn of Africa. The general also answers questions from the audience and there are many good ones. As one would expect, this chapter has much more to do with the overall long term strategies than the preceding ones.
While this was a quite interesting book on a current hot topic, it has several significant limitations. First, with the exception of the General Petraeus' chapter, the other chapters appear to be condensations of what the conferees presented, but do not include any exchanges and comments by audience members that one would have hoped to see. Second, commentary on two critical issues is altogether lacking, such as the religious component of the insurgencies – Islamists label all Westerners as infidels, likening our military to the invading crusaders of the Middle Ages. By failing to refute or deal with this topic objectively and resolutely, the enemy has been ceded a valuable psychological warfare tool. The other significant matter that goes unaddressed is the questionable staying power of the US in prolonged wars. In every extended conflict since World War II, US congressional support for such expeditions has been progressively growing more fractious, as the result of a shift in political power toward progressives who object to almost any US military intervention. While it is understandable that it would be difficult to include such highly sensitive political issues in a neutral government venue, their importance is not diminished by their sensitivity, and their omission leaves a large gap in the otherwise thorough and excellent reasoning that marks the analyses and conclusions reached.
Captain Jones is a frequent contributor to Naval History Book Reviews and was named a 2011 Naval Historical Foundation Volunteer of the Year.