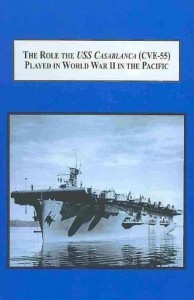 By Dr. Barbara G. Jones. 2010, The Edwin Mellen Press, Box 450, Lewiston, NY., 515pp.
Reviewed by Charles H. Bogart
Dr. Barbara Jones has penned a well-written and interesting history of the escort carrier USS Casablanca (CVE 55). The story is told using official records, personal reminiscences, and secondary sources. The author divides her account into four periods: an account of how the United States got into the war, the development of the escort carrier concept, a description of the Casablanca enlivened by accounts of the day-to-day routine on board, and her war time service.
Casablanca was the lead ship of fifty escort carriers built by Henry Kaiser at his Astoria, Oregon, yard. A propeller defect resulted in Casablanca being retained stateside for use as a training ship that offered pre-commissioning cruises for the commissioning crews of the other Casablanca Class carriers. This pre-commissioning training was conducted in Puget Sound and its adjacent waters. Pre-commissioning crews from sister ships spent two weeks on board Casablanca learning how to operate her equipment and carry out ship maneuvers. Thus, when their ship was commissioned these men already had a working knowledge of their ship's characteristics. During this period, the Navy also monitored Casablanca's material readiness and ship handling capability. Lessons learned during her service as a training carrier were incorporated into the hulls of sister ships still under construction. This training mission lasted from August 1943 to August 1944.
In August 1944, with her propeller defect corrected, Casablanca sailed for the war zone. Her job was to transport aircraft, men, and equipment to Manus Island. Upon completing this duty, she returned to Puget Sound to serve as a pre-commissioning training ship for Commencement Bay class escort carriers. While conducting this training, Casablanca was damaged in a storm and went to San Diego, California, for repair. Upon completing her repairs, Casablanca sailed for the Philippines carrying aircraft, men, and equipment for the war zone. After delivering her cargo and personnel to the war zone, Casablanca sailed transporting medically unfit men back stateside for additional treatment. Once stateside Casablanca was reloaded with planes, equipment, and personnel wanted in the war zone. She delivered these to Guam, and while there the war ended.
With the war over, Casablanca was converted into a troopship to bring men back home. She made three Magic Carpet voyages before being ordered to Norfolk, Virginia, for decommissioning. At Norfolk she hauled down her flag on 30 May 1946 and entered the reserve fleet. She would never again answer the call to colors and her end was under the cutting torch.
The book's primary audience appears to be descendants of those who served in Casablanca. The author performs a splendid job in describing life on board ship. We are treated to a series of vignettes about various aspects of navy life on board ship and ashore. What is lacking is a diagram of Casablanca so that one could locate where these events are taking place on board the ship. The book is a nice easy but educational read, marred by some errors of fact, i.e. 30 mm ammunition instead of .30 caliber and B-35 aircraft instead of B-25. However, I highly recommend this book to anyone interested in the social history of the World War II Navy and the training establishment that turned men into highly skilled sailors. Due to the price of the book ($139.95), I would advise getting a copy of the book via inter-library loan.
Charles H. Bogart is a frequent contributor to Naval Book Review and was named a 2011 Naval Historical Foundation Volunteer of the Year.