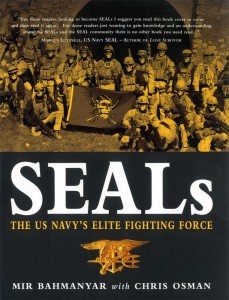 By Mir Bahmanyar with Chris Osman, Osprey Publishing, Oxford, UK (2008), 256 pp
Reviewed by Captain Roger F. Jones, USN. (Ret.)
SEALs bills itself as the ultimate book about how Navy SEALs train and fight, and it is certainly the most comprehensive and interesting one on this topic that this reviewer has ever read. Written from a first-hand perspective, it explains how World War II "frogmen" evolved into today's elite special warfare teams. Even before the recent successful operation against Osama bin-Ladin, Navy SEALs have clearly earned a reputation as the definitive special warfare warriors, operating in every environment: water, air, and land. Their training is described in detail, starting with "BUD/S" (Basic Underwater Demolition/ SEAL), a punishing six-month high-intensity program. Its purpose is to train each individual in the specific requirements of special warfare operations, and in its progression, to weed out those who lack sufficient self-motivation and drive to serve under the incredibly demanding conditions that are the hallmark of SEALs' missions. The sixth week in BUD/S is "Hell Week," when students are subject to a series of exhausting exercises throughout both day and night – typically, students get only five hours of sleep during this week. Surprisingly, few students wash out during "Hell Week," but over the full six months, usually only 30% of those starting the course will graduate. More specialized training follows for the BUD/S graduates and these are described in somewhat less detail. A complete listing of the SEALs' table of organization and locations are included, as well as extensive references.
The bulk of the book presents a series of missions as seen through the eyes of one or more SEALs in the invasion of Panama (1989), drug interdiction in Bolivia (1991), then operations in the Balkans (1999, 2003), Iraq and Afghanistan (2003-2007). These mission action details are accompanied by many illustrations (of outstanding quality) of the terrain and the SEALs involved (with appropriate blurring of their faces!). The writing is very well done, capturing a genuine "feel" of being there, including how the units had to deal with underway mission changes necessitated by stale intelligence, as well as when things went unexpectedly easily. Bahmanyar is actually a former Army Ranger but did most of the writing, based on information provided by Osman and another SEAL, Marcus Luttrell; these latter two also furnished most of the photos. Someone who has never served or worked in the military may be put off by the constant use of abbreviations (e.g., GOPLAT, ARSTDV, etc.) but otherwise, this is a book that is hard to put down.
Captain Jones is a frequent contributor to Naval History Book Reviews and was named a 2011 Naval Historical Foundation Volunteer of the Year.