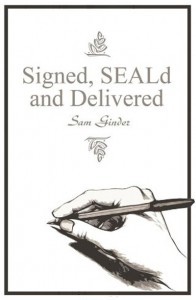 By Sam Ginder, Red Lead Press, Paperback, 339 pages
Reviewed by Vice Adm. Robert F. Dunn, USN, (Ret.)
What a terrific escape from the routine and mundane is this book! A sitting United States Senator hires a hard-hitting former Navy SEAL to track down the Senator's missing daughter, a beautiful and charming twenty-something. At a breathtaking pace the story takes the reader from Washington and Georgetown to Coronado, Tijuana, Cabo San Lucas and back to Washington with a side trip to Baltimore. There are encounters and narrow escapes with luck and mental and physical combat coming often into play. They came into play simultaneously when the SEAL, Jack Kane, is forcefully detained by a powerful and unscrupulous drug lord who is also a world renowned ichthyologist. This gives him license to keep live specimens in huge viewable glass walled tanks on his estate in Cabo where, "In the interest of science," his larger specimens are sometimes fed those he wants to get rid of. Kane is lucky indeed to escape Cabo San Lucas and the fish tanks.
Before that encounter Kane had found the girl in Tijuana and discovered at the same time that, while not only did she not seem to be kidnapped and was not hurt, she appeared to be enjoying herself. He suspected she might be involved in some mysterious way with the highest levels of movers and shakers in the Mexican drug trade and he had to pursue the possibilities. Solving the puzzle despite the maze of competitiveness in the trade makes the story timely. Thugs, slick hucksters, smooth operators, sophisticated business men, police, intercontinental travel and, of course, that beautiful young woman, are all part of the huge kaleidoscope of a world only suspected by most Americans but painted in clear words by author Sam Ginder.
To help him in his quest, Kane recruits former SEAL friends and enlists the help of a District of Columbia policeman who, in turn, brings in a Baltimore policeman when the story moves to that city. As for venues, many Washington Area citizens will relate to such well-known places as a Senate office building on Capitol Hill, Connecticut Avenue and several of its bars, prestigious Washington and Georgetown restaurants, the Watergate and the Baltimore waterfront. Those familiar with Coronado will recognize the Hotel del Coronado, the Hog's Breath Saloon on Orange Avenue, a rendezvous for Seals not far from the Hotel Del. The short distance from Coronado to the Mexican border used to make for a simple crossing, but not so easy anymore; however, guided by his Mexican born SEAL shipmate Kane slips across to Tijuana and onto a bullfight starring a magnificent young Mexican matador lending much color to the otherwise stark surroundings of Tijuana. There, at the bullfight, he finds the blond, sitting in the most prestigious box in the arena enjoying herself with assorted Mexican drug overlords.
Hesitating to try and corral the girl and take her home before the drug connection, if any, is solved he follows leads from Tijuana to Cabo San Lucas and the luxury of the Playa Grande Resort. The luxury doesn't last long, however; he's kidnapped by a drug lord, gets a lecture in minding his own business and witnesses those chilling fish tanks. Yet, he can't leave it alone.
Returning to Coronado and back again to Tijuana, still not having solved the drug connection, he and some colleagues manage to kidnap the senator's daughter and squire her back to Washington. She is not pleased, but the senator is.
Back in his office on Connecticut Avenue Kane, with the unsolved drug problem and the girl's possible involvement still not settled, he discovers his mission is not quite finished. During a routine parcel pickup for an anonymous client he discovers that the package contains a crude Central American statuette of no apparent value. Being naturally inquisitive he discovers the statuette contains a coded message. Deciphering it with the help of an American University professor it identifies the schedule for a major drug pickup on the Baltimore docks. At that point a District of Columbia detective and his Baltimore colleague are brought in. A Baltimore narcotics squad is ready to intercept the shipment when the thugs who are to receive it are surprised by a rival gang showing up at the same time. An old fashioned Wild West shootout ensues. Nine bad guys die and the rest are captured by the Baltimore police.
There's more, much more, and the girl and the ichthyologist do re-enter the story and so does a mole in the D.C. police department; but then to tell more would be to give it away.
Signed, SEALd and Delivered, despite its awkward title, is a smoothly written tale of mystery and action set in real-world places all wrapped in one fairly small package. I recommend you take a look.
Vice Admiral Dunn is former President of the Naval Historical Foundation and frequently contributes history book reviews to The Washington Times.