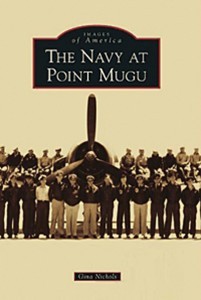 By Gina Nichols, Arcadia Publishing, Mount Pleasant, SC, (2011)
Reviewed by Charles H. Bogart
Written by Gina Nichols, archivist of the U.S. Navy Seabee Museum at Port Hueneme, California, this is another publication in Arcadia Publishing Images of America series. Point Mugu had developed as an upscale fishing camp during the years before World War II. In 1943, needing land on which to conduct amphibious training operations, the U.S. Navy acquired the fishing camp. During World War II, it was used by the Seabees for training in landing upon a hostile beach and in building a base upon capture of the hostile shore.
In 1945, the future of Point Mugu changed with the development of Naval Air Facility (NAF) Point Mugu. It was here that the U S Navy in 1946 tested the Loon surface-to-surface missile. This led to Point Mugu being designated on 1 October 1946 as Naval Air Missile Test Center Point Mugu. The next two decades would see Point Mugu testing and evaluating a number of missile systems: Oriole, Lark, Gorgon, Regulus I, Regulus II, Harpoon, and other missiles.
In 1952, NAS Point Mugu got a new tenant, Air Development Squadron Four (VX-4), which perfected the techniques for launching air-to-air and air-to-surface missiles. In 1974, another squadron arrived at NAS Point Mugu, Antarctic Development Squadron Six (VXE-6).
In 1998, the Navy moved Commander Airborne Early Warning Wing U.S. Pacific Fleet to NAS Point Mugu. It then began to consolidate its Hawkeye Squadrons at Point Mugu.
The year 1956 saw Point Mugu gain another new tenant, Pacific Missile Range. The Pacific Missile Range, along with the Atlantic Missile Range and the White Sands Missile Range, served as one of the United States missile research and development centers. The Pacific Missile Range provided direct support to the Mercury and Gemini space programs, the surface to surface missiles Thor and Atlas, and the air defense missile Nike-Zeus. The Pacific Missile Range would merge in 1975 with the Naval Missile Center to become Pacific Missile Test Center.
In 1962, Navy Astronautics Group was organized at Point Mugu. In 1990, this unit became Naval Satellite Operations Center. Then on 11 October 2000, NAS Point Mugu and Construction Battalion Center Port Hueneme were merged to become the present day Naval Base Ventura County.
The author, using over 200 pictures spread over 138 pages, tells the above story in great visual detail. Each photo is accompanied by a concise description of what one is seeing but also its place within the history of Point Mugu. Photo coverage includes not only events taking place at Point Mugu between 1930 and 2000, but also reaches out to include facilities on the Channel Islands and support ships and craft. The photos within the book include aerial coverage of Point Mugu during different time periods so one can see its development plus shots of buildings, events, personalities, and equipment. The author has provided an excellent and concise history of the U S Navy at Point Mugu from World War II through the Cold War and on to today's War on Terror.
Charles H. Bogart is a frequent contributor to Naval History Book Reviews and was named a 2011 Naval Historical Foundation Volunteer of the Year.