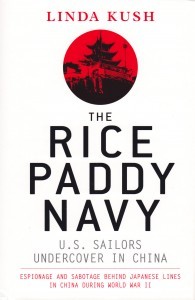 By Linda Kush, Osprey Publishing, (2012)
Reviewed by David Kronenfeld
The Rice Paddy Navy relates the unique story of the Sino-American Cooperation Organization (SACO), an intelligence and special operations unit of the US Navy in China during World War II. Author Linda Kush has expended significant research in the writing of her first book length publication. The Rice Paddy Navy provides readers with a history of SACO from its gestation in the halls of Washington, DC to its guerilla actions in Chinese rice paddies and weather collection efforts in the Mongolian desert.
Many Americans barely associate China with U.S. actions in the Pacific. Battles and locales such as Pearl Harbor, Midway, Guadalcanal, Wake Island, Okinawa and Iwo Jima generally take a front row seat in the story of the Pacific War and what mention might be made of China is often a brief reference to General Stilwell and Claire Chennault's Flying Tigers. The Rice Paddy Navy helps correct this perception and exposes both the serious historian and the armchair admiral to the story of how vital intelligence was fed to American commanders by Captain Milton Miles and his small team of unconventional naval warriors and native Chinese guerillas.
Kush does an excellent job of weaving together numerous threads to present the reader a picture of the various cast of characters involved in SACO (an old China Hand naval officer, the OSS's Wild Bill Donovan, seamen from America's heartland, a Chinese warlord, Chinese pirates and even missionaries), their unique mission of intelligence gathering, meteorological observations and guerilla operations in hostile territory and the bureaucratic infighting that accompanied almost every step of their mission. Approaching SACO's story from a chronological perspective, Kush walks the reader through each phase of SACO's development instead of focusing on a single thread from beginning to end and then starting the story over with another thread. While this may confuse the reader at times because the story seems to jump between characters, it works very well in giving the reader a measured understanding of how SACO matured as the war progressed.
Overall Kush's work is highly readable and a worthwhile addition to the library of anyone interested in Asian history or American unconventional operations in World War II. One quibble that could have been cleaned up in the editing process is that the book appears to have been written chapter by chapter in no particular order. When the chapters were later assembled into a book-length publication, there were multiple items that were repeated in a couple chapters and were either repetitive, confusing or both. This is a minor issue, though, as Kush succeeds in providing an entertaining and informative piece in The Rice Paddy Navy.
David Kronenfeld is a corporate attorney and maintains the blog www.shipwreckology.com.