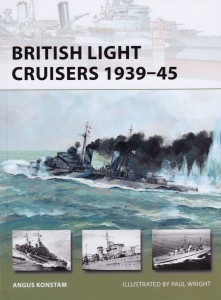 By Angus Konstam, illus. by Paul Wright, Osprey Publishing, Oxford, UK. (2012).
Reviewed by Richard P. Hallion, Ph.D.
Generally speaking, light cruisers have not received as much attention from historians and novelists as have other vessels, though they have figured in two of the great novels of naval warfare—C. S. Forester's The Ship, and Alistair MacLean's H.M.S. Ulysses.  Both relate the travails of protecting convoys from sub, surface, and air attack, the former about supplying Malta, and the latter about the Murmansk run. This slender but highly useful volume is a welcome factual introduction to the type, focusing on those vessels of the Royal Navy, which ably served the Admiralty's needs during the greatest sea war ever fought.
That it is both an attractive and authoritative work is unsurprising. Its author is Angus Konstam, a widely-published popular naval historian who is the former Curator of Weapons at the Tower of London and former Chief Curator of the Mel Fisher Maritime Museum in Key West. Its art work is by Paul Wright, whose illustrations have graced and added enjoyment to many works of naval history and fiction, including those of the legendary C. S. Forester, historian-novelist Dudley Pope, and the more recent Patrick O'Brien.
British Light Cruisers discusses the design, development of no less than nine classes of these fast and relatively lightly armed (and armored) vessels, and offers the casual reader an insightful discussion of interwar Royal Navy acquisition policy and the rationale for laying down so many of these ships. By 1930, the Royal Navy's cruiser fleet had declined by over half from its Great War peak, a drop from 86 to just 42, many of which were obsolescent or so hard-worn as to be of little future value. The London Naval Treaty restricted the size and offensive capability of cruisers, and total fleet-size tonnage limitations resulted in the Royal Navy placing its future emphasis upon light, not heavy, cruisers.
Royal Navy and Commonwealth light cruisers figured prominently in the Second World War, achieving on occasion notable distinction. Three particular actions come immediately to mind: Achilles and Ajax teaming with the heavy cruiser Exeter against Graf Spee off the River Plate; Carlisle, Cleopatra, Dido, Euryalus, and Penelope seeing off the Italian fleet in the Second Battle of Sirte; and Belfast and Jamaica joining with the battleship Duke of York to engage and sink Scharnhorst off the North Cape. But such success came at a fearsome price in lost and crippled ships, and, worse, lost and crippled seamen. A rough accounting of just the ships listed in this slim work reveals that roughly a third of those that saw wartime service were lost, air attacks proving particularly vexing, despite many of these vessels ostensibly being designated as "anti-aircraft cruisers." Of all these vessels, only one survives:  H.M.S. Belfast, now moored in the Thames, visible to morning commuters making their way into Central London, and affording visitors a glimpse into the naval war of 1939-45.
British Light Cruisers 1939-45 constitutes a most useful and valuable introduction to Royal Navy cruiser warfare. Over several decades, Osprey Publishing has established a well-deserved reputation for producing slim, high-quality, quick-reference works on military technology and operations. Like its predecessors, British Light Cruisers 1939-45 blends an insightful text with excellent contemporary photographs, detailed drawings, and some superb artwork and cutaways.  Konstam has furnished an excellent bibliography for those seeking further information, and Wright's illustrations bring to life the grace and qualities of these beautiful and too-little-appreciated vessels. This is a most worthy addition to Osprey's library of similar works.
Dr. Hallion is a noted aerospace historian and a frequent contributor to Naval History Book Reviews.