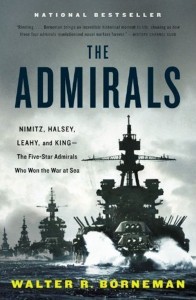 By Walter R. Borneman, Little, Brown and Company, New York, NY (2012).
Reviewed by Captain Scott Mobley, U.S. Navy (Retired)
Millions of men and women have served in the U.S. Navy since its founding more than two centuries ago, but only four attained five-star status. The circumstances of World War II propelled this quartet—William D. Leahy, Ernest J. King, Chester W. Nimitz, and William F. Halsey, Jr.—to the lofty rank of Fleet Admiral. While wartime exigency may explain the reasons and timing for their promotion, it does not explain why these men were singled out nor how they achieved such tremendous success leading the greatest naval force ever assembled. Walter R. Borneman sheds light on these questions in his new book, The Admirals: Nimitz, Halsey, Leahy, and King—The Five-Star Admirals Who Won the War at Sea.
Borneman traces the lives of his subjects from their boyhoods, through long and eventful naval careers, and into their final years. He deftly weaves these four biographic strands into a broad narrative that encompasses the historical events, trends, and controversies which shaped the navy, nation, and world between about 1900-1950. This emphasis on historical context is a strong point of the book.
The author divides his narrative into three sections. Part One, entitled "Sailors," introduces the reader to the four protagonists, establishes the essential character of each, and describes their careers as junior officers. Part Two, "Ships," begins with Leahy, King, Nimitz, and Halsey each stepping into the role of commanding officer afloat.  Borneman continues the saga by recounting the quartet's rise to flag rank and follows their careers as senior naval leaders to the eve of World War II. Borneman devotes more than half the book to the third and final section, "Admirals," which fully details the wartime activities of the four fleet admirals.
Four distinct, complex and colorful personalities emerge from Borneman's prose. King was at once a mercurial egotist, a calculating careerist, an innovative administrator, and a brilliant strategist. Although Nimitz's ability as a master strategist equaled King's, the patient and thoughtful leadership style of this dedicated family man stood in marked contrast to that of his senior. Dynamic and pugnacious, "Bull" Halsey basked in the glow of public admiration, yet he privately suffered from nervous disorders that took him out of the fight at key moments.  Dismissive of any "standard protocol" that might impede action, Halsey also failed to heed important advice from his counselors—a reckless tendency that Borneman blames for the tragic loss of life suffered caused when the indomitable admiral let his fleet into typhoons during the fall/winter of 1944-45.
While Halsey reveled in publicity, Leahy actively avoided it. Such studied reticence often earns Leahy a mere mention in the footnotes of historical accounts, although he was the senior fleet admiral and the longest to serve on active duty.  Borneman redresses this oversight by placing Leahy front and center. Many readers will appreciate for the first time Leahy's broad experience in the navy and as a diplomat, his mastery of organizational process and politics, and his wartime performance as a virtuoso of grand strategy. Pointing to the elder statesman's simultaneous roles as presidential chief of staff, original chairman of the Joint Chiefs of Staff, and de facto National Security Advisor, Borneman convincingly argues that Leahy was truly the most influential, if least known, of the fleet admirals.
In his conclusion, Borneman attributes the success of Halsey, Nimitz, King and Leahy to a combination of superior leadership skills and strength of character. Central to Borneman's argument is the Naval Academy experience, where four years of intense training, education and acculturation instilled in each man the "intangible elements" of leadership that propelled his rise to greatness. However, while giving USNA its due, the reader may add to Borneman's assessment by gleaning from The Admirals other influences that shaped the lives and careers of the fleet admirals. These influences include: enhanced command opportunity for junior officers, new technologies that enabled officers to make professional contributions and build their service reputations, the Naval War College experience, and a service culture that encouraged strong mentorship and allowed young officers to learn from their mistakes.
Naval professionals and students of maritime and military history will enjoy The Admirals. The book's short chapter lengths lend themselves to brief reading sessions that suit a busy shipboard environment. Judiciously placed maps provide useful visual references, and nine short appendices add interesting background detail. Both primary and secondary sources inform Borneman's research. The bibliography includes all essential works of history and biography relevant to the book's subject, supplemented by material from published memoirs and several reputable web sites. To this mix of evidence Borneman adds interesting details gleaned from diligent archival research at the Library of Congress, the Naval History and Heritage Command, the U.S. Naval Academy, the Naval War College, and other important collections.
Captain Mobley is working on his dissertation at the University of Wisconsin—Madison.