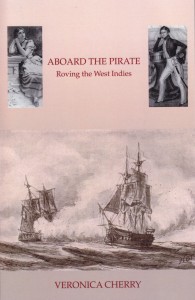 By Veronica Cherry, Gallant Books, (2012)
Reviewed by Nathan Albright
In reading this dramatic and action-packed novel about piracy and children in extreme peril, it is difficult not to suspect that the author has a variety of personal and professional motives in framing the story as she does.  The novel begins and ends with a slight time shift, in that two Coast Guardsmen fighting on the front lines of the drug war interact with a couple of characters of the previous period of widespread piracy at the beginning of the 19th century in the Gulf Coast, which gave us antiheroes like the Lafitte brothers and Jose Gaspar.  Included among these possible lessons includes the relationship between piracy as well as the illicit trafficking of souls and drugs and the moral corruption of those who conduct and turn a blind eye to the trade.
It is also obvious from the author's blunt approach to children in peril as well as frequent lewd comments that the author's background as a survivor of child abuse appears to have been at least a contributing factor to the way that this novel is written.  This is not a novel for those who are squeamish about rape and murder and the degradation that people can suffer at the hands of the wicked.  Indeed, when the heroine of this novel is introduced, she is a twelve year old seeking to seduce much older men for compensation at the encouragement of her mother, who responds to a rebuke about her poor parenting with the retort:  "How dare you tell me how to raise my child (59)."  There are a lot of aspects of this novel, given my own personal background, that were unpleasant to deal with, and the author is honest and unromantic in her portrayal of the early 1800's world of piracy.
The plot follows a variety of characters, including a British midshipmen who had been kidnapped after getting drunk in New Orleans, the aforementioned young lady who escapes being pimped out by her mother and becomes a stowaway and eventually a queer sort of pirate by pretending to be a man (albeit not very well), an African slave who seeks his freedom and a return trip home across the Atlantic, a bachelor mariner introduced as a potential customer in prostitution who shows himself to be an honorable and decent man, if unsuccessful in finding marriage, a group of pirate captains who have varying but slight to no degrees of personal honor and integrity, including one pirate (Jose Gaspar) who is still celebrated to this day by the city of Tampa as one of their civic heroes, and another couple of pirate (the Lafitte brothers) who provided valuable services to the United States during the War of 1812, but whose piratical ways eventually ended in their exile and (presumably) death.
While dealing with the grim reality of piracy, the novel also looks at how the response to piracy was hampered by a variety of factors, including the lack of political will on the part of nations to cooperate with others against the scourge of piracy or to put the resources into building ships and training crews to fight against pirates, or even the political will on the part of corrupt civic leaders to arrest pirates instead of participate in the illicit trade as partners in crime.  The fact that these same elements exist where piracy is still a global problem and where the drug trade is involved gives a common tie between the early 1800's and our own supposedly much more enlightened world.  While reading an adventure novel about young people in extreme peril trying to retain such virtue as they possess while being caught up against their will in the world of piracy, the reader is also led along the path of understanding the corruption that remains within businesses and governments and the process by which piracy and illicit behavior endangers legitimate activities and eventually encourages nations to devote the resources to removing safe bases of operation from those engaged in piracy and other corrupt behavior.
This is not only a novel that entertains with a dramatic and exciting plot, nor occasionally disturbs the reader with its grim realism in dealing with pirate humor that would only be found these days by a member of one of Tampa's pirate krewes during Gasparilla festivals, but also instructs the reader on contemporary reality that mirrors the uncertain days of the early 1800's when the rule of law slowly cut off the freedom of the seas that allowed piracy to prosper. An afterword provides a brief historical commentary on the real and imagined characters within the novel as well as their world. For those who like their language salty, their novels full of real historical characters, their plots full of action like raiding ships and fortresses and dealing with corrupt political leaders, as well as a little bit of time slip to add some contemporary relevance, this novel will have much to offer, as long as the reader is not squeamish about its language or its contents.
Nathan Albright lives in Portland, Oregon.