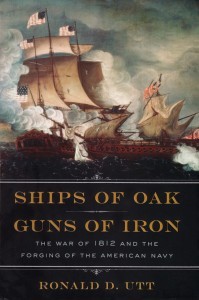 By Ronald D. Utt,  Regnery Publishing, Washington, DC, (2012).
Reviewed by David Curtis Skaggs, Ph.D.
Entering the lists of War of 1812 naval history contenders is Ronald Utt's Ships of Oak, Guns of Iron that seeks to demonstrate that this conflict forged the respected United States Navy that emerged in the nineteenth century. Or at least that is what his subtitle suggests is the objective of this popularized account of naval portion of what the British term "the second American war." Utt enters in the long line of jousters that includes James Fenimore Cooper, Theodore Roosevelt, and C. S. Forester. His most recent competitor is George Daughan's 1812: The Navy's War (2011).
A recently retired research fellow at the Heritage Foundation, Dr. Utt is the author of numerous economic studies; this is his first effort at historical writing.  He writes with verve and a thorough understanding of maritime terminology. His descriptions of naval engagements evoke the smoke and sound of battle as effectively as any previous writer.  Epitomizing his lively prose is the description of the USS Constitution as "this great oaken beast of war." On the other hand, the excessive use of long quotations from secondary sources interrupts his engaging literary style.
Unfortunately Ships of Oak, Guns of Iron is filled with errors of fact that cause those familiar with the conflict to cringe. The intrepid captain of the sloop-of-war Wasp, Johnston Blakeley, has his last name consistently misspelled.  Several times the ranks of British and American officers are incorrectly noted. Anyone who describes Put-in-Bay, Ohio, as "off the eastern shore of the Bass Islands" in Lake Erie has not looked at a map. Most grievous is the suggestion that Commodore Isaac Chauncey on Lake Ontario was "a good strategist and an excellent judge of character in the subordinates he selected and to whom he gave great responsibility: Oliver Hazard Perry, Winfield Scott, Thomas Macdonough, and Zebulon Pike."
Does Utt not understand that Generals Scott and Pike were not selected by Chauncey nor were they under his command, that on Lake Champlain Macdonough had an independent command, and that although Perry was selected by him and was his subordinate, the eventual victor on Lake Erie was so exasperated with his superior that he offered his resignation in frustration over what he considered was a lack of support?  Little criticism is given Chauncey's failure to achieve naval dominance on Lake Ontario in what is known as the Burlington Races on 28 September 1813.  Compared the other "Preble's Boys," Chauncey proved a master builder of ships and a timorous combat commander.
There is little appreciation of Secretary of the Navy William Jones' efforts to balance the naval effort between the lakes and the high seas and to understand how important was his policy of combining U.S. Navy and privateer efforts against British commercial interests.   It was the unromantic efforts of destroying merchant ships that would influence His Majesty's Government to consider ending the conflict more that the occasional ship-to-ship duels that fascinate this author.
For those unfamiliar with the Navy of this period, Ships of Oak, Guns of Iron is an animated place to begin. But in the final analysis this is another narrative history based mostly on a limited list of secondary sources with no thesis and no new information for those familiar with the naval aspects of the War of 1812. Those who want the latest scholarship should consult such works as Troy Bickham, Weight of Vengeance (2012), Kevin McCranie, Utmost Gallantry (2011), and Alan Taylor, The Civil War of 1812 (2011).
Dr. Skaggs is a professor emeritus of history at Bowling Green State University and the author of three books on the naval War of 1812 on North America's Inland Seas published by the Naval Institute Press.  His Frontier Struggle in the War of 1812: William Henry Harrison and the Conquest of the Ohio Country will be published by the Johns Hopkins University Press later this year.