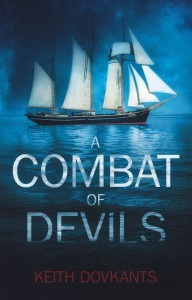 By Keith Dovkants, Matador, Troubador Publishing, Ltd. Leicestershire, UK (2012)
Reviewed by James C. Quinn
A Combat of Devils takes place during the First World War in the English Channel between a Royal Navy officer and his crew and a German U-boat, but I find it hard to call it a war novel. It opens with wartime action and there are scenes of war in the middle and at the end of the novel, but this seems more a story of a man and his relationships with others – a character study. Because of this confusion in my mind, the book disappoints. It is an interesting read and the hero reminded me of the young Hornblower somewhat, but in the end it was a bit unsatisfactory – the conclusion seemed somewhat lacking.
The author, Keith Dovkants, is an English journalist who was covered many conflicts all over the world. He has recently covered British forces in the Gulf War and has reported from Iraq during the 2003 invasion and its aftermath. He is a lifelong sailor and cruises from the south coast of England.
Dovkants' story features Julian LaSalle, a Royal Navy officer, and his relationship with Merrick Granger, an American survivor of the sinking of Lusitania. This is the story of a "bromance," not of war. There are too many incomplete characters interacting: Julian, the young ward and Margaret, the daughter of the English lord who raised him. Then Julian, now a naval officer home on leave and the same Margaret, older and perhaps somewhat bitter, who now finds Julian more attractive. Then Julian, the naval officer and Miss Vaisey, the daughter of the admiral commanding his unit, at a dinner that seems to promise romance. Add in Laurantine, a French girl who was among Julian's rescuers, who interests Julian but who seems set on Merrick. At the heart of the story, there is Merrick and Julian in a relationship never clearly explained. Is it paternal? Is there a homosexual undertone? Is it a relationship of equals, of men engaged against a common enemy? Possibilities for each are here and the reader must choose. And there is, unsatisfactorily, it seems explained here, Higgins, and embittered Royal Navy officer, who brings Granger's homosexual episode to the reader's attention in a few unclear pages.
A Combat of Devils disappoints. U-boats and romance and the brotherhood of arms have a greater potential than that which is explored here.
The reviewer, James C. Quinn, is retired from the New York City Transit Authority and from the Department of Homeland Security. He is a graduate of John Jay College of Criminal Justice and Brooklyn Law School. He is an Air Force veteran and has had a lifelong interest in the sea and ships and the military.