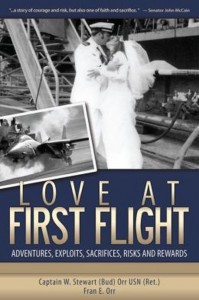 By W. Stewart and Fran E. Orr, Astor and Blue Editions, New York, NY (2012).
Reviewed by Captain Roger F. Jones, U,S, Navy (Retired)
"Bud" and Fran Orr, husband and wife, write alternating sections in this book, telling the story of their lives – his as a naval aviator, starting in the Viet Nam era and culminating in retirement, 1960 to 1992. This is an unusual book, in that it involves two streams of consciousness (alternating between the two authors), woven into a single, unified pattern. Once the reader becomes accustomed to the book's format, the parallel storylines are not hard to follow. It's unclear how many years the Orrs were dating before finally getting married, but the ceremony does not take place until more than half way through the book.
The romantic side of their relationship dominates the first several chapters. Both had failed marriages in their pasts, with each having had children in these previous marriages, although they are not a significant part of the storyline. The narrative primarily centers on Bud Orr's love of flying, "Navy-style." While the Orrs' stories alternate in chronological order, they are not seamless and mainly consist of a series of vignettes. He writes in detail about the significant difficulties and dangers of carrier take-offs and landings, with several hair-raising recounts of crashes and near-crashes during both training and normal flight operations. Clearly, he thrived on taking risks, even volunteering to become the first US naval aviator to learn how to fly the AV-8A Harrier, the British-made vertical take-off and landing aircraft. This was not only a professional challenge, but put his military career on the line as well, since it took him out of the normal naval aviator path of career advancement (the Harrier had only been flown by Marine Corps pilots up to this point). The Harrier had a reputation for being inherently unstable – the day Orr reported for duty with the Marines' Harrier Squadron, one of the five other pilots was killed in a Harrier crash. Orr successfully qualified, even adopting the Marines' standards of dress, i.e., close hair cut, no mustache/sideburns/beard, despite these being the Zumwalt years!  He even ran daily with Marine pilots.
Fran Orr writes about their love life, which ultimately culminates in marriage.  Fran has custody of her children, but Bud does not have custody of his, and these very different points of view predictably affect how much is written on these topics and by whom.
Orr emerges as an outstanding pilot and leader; his career advanced accordingly. Unfortunately, he "hit the wall" at 22 years of service, when one of his airwing's aircraft inadvertently struck a civilian ship with a missile in the course of a training mission, killing one of the crewmen. Although Orr had no direct part in this error, as the force commander, he was held responsible and given a "non-punitive" letter of reprimand (despite this designation, it meant that Orr would never be selected for flag rank). His final assignment before retirement was in Washington, DC, as the Staff Director of the Presidential Commission on the Assignment of Women in Combat.
This is a novel form of autobiography and readers who are interested in what it is like to be a carrier pilot will find it interesting.
Captain Jones earned NHF Volunteer of the Year honors for his contributions to Naval History Book Reviews.