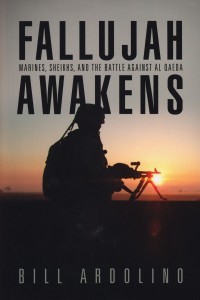 By Bill Ardolino, Naval Institute Press Annapolis, (2013).
Reviewed by John Grady
Bill Ardolino, associate editor of the Long War Journal, wrote a telling account of counterinsurgency warfare and its costs.  In no place does he summarize this struggle better than his narrative of the yearlong struggle of a Marine Reserve unit and Sunni Iraqis trying to bring order to Fallujah.  According to Ardolino, "Insurgencies don't die in a climactic battle.  They diminish, but rage on for years as a series of small brush fires each snuffed out by security forces who have won the cooperation of the people." In Iraq today, it seems the brush fires now burning again are obscured by the civil-war level infernos raging in Syria and threatening to engulf Egypt.  Ardolino wrote about the Third Battle of Fallujah during two extended embeds with these Marine reservists in 2007.
Surprisingly, Ardolino's found that Marines were "primed for conventional warfare" rather than undertaking a "job that often resembled police work as much as it did traditional combat." What happened to the "Three-Block War" doctrine?
The Army and Marine Corps Counterinsurgency Field Manual were published in 2007.  Army training centers at Fort Polk, La., Fort Irwin, Calif., and National Guard and Army Reserve training centers in Camps Shelby, Miss., Atterbury, Ind., and Hunter-Liggett, Calif., all ran exercises stressing unconventional warfare with mock Iraqi villages, snipers in minarets, calls to prayer, plenty of simulated roadside bombs and developing techniques in raiding suspected terrorist homes.  I have to believe the Marine Corps was doing the same thing for its active and reserve forces. The operating tempo for both services dictated that.
Not every commander at every level bought into the idea of counterinsurgency warfare.  This is probable even today.  Yet Soldiers and Marines had been exposed to it before deployment. Ardolino correctly identified that, in the mind of one practitioner, Maj. Dan Whisnant, it was "exasperating, uncertain work" that could be "empowering a new, yet established [Anbari sheikhs], class of gangster."
Whisnant's company was based out of Grand Rapids, Michigan.  Like other active, guard, and reserve units it had to be augmented with reservists from Indiana, Missouri, and Tennessee, and active duty volunteers and Navy corpsmen from across the United States.
The most intriguing augmentee was CWO-5 Jim Rousell, a Chicago police detective who helped piece together the intelligence means to tear down al Qaeda in Iraq's influence among the Sunnis religious minority, which had ruled the country for decades.
Following the dictum "you can't surge trust," Whisnant, platoon leaders, noncommissioned officers, and Marines demonstrated through the avoidance of civilian casualties and the quick military and medical response to a chlorine gas attack that they were more than mere occupiers. For Iraqis and American military doctors who treated the casualties, the reduction of civilian killed and wounded was attributed to "the breadth of civilian law enforcement and first responder experience" among Marine reservists. As one Marine summed up, "People's opinions started changing."  After that, Marines were not always viewed through the lens as "occupier."
Ardolino made a good case that this was the first stage of the "Anbar Awakening" that turned many Iraqi Sunnis on the Salafists and foreign fighters in al Qaeda in Iraq.  As the Marines' tour was ending, the Iraqis quickly began wondering what was next.  They had every right to be concerned. Would the next Americans work in the same way as Whisnant's Marines?  Would there be nighttime payback for cooperating with Marines?  The clock was ticking down on the continued American presence in Iraq.  Aifan was killed before the last American forces left the country because a status of forces agreement was never reached.
Two years after the American pullout, violence is once again flaring across the country.  That was what Whisnant had to be thinking when he rotated out.  He knew, in Ardolino's short hand for counterinsurgency warfare, "the people are the prize."
But opinions over events can change over time.
That was the challenge Ardolino captured.  It remains the challenge today in Afghanistan and wherever the United States commits its armed forces outside its borders.
John Grady is a veteran military affairs correspondent and NHF volunteer oral historian.