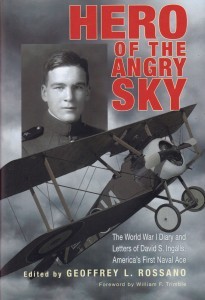 Edited by Geoffrey L. Rossano, Ohio University Press, Athens, OH, (2013).
Reviewed by Mitchell Yockelson, Ph.D.
Hero of the Angry Sky is the unique story of World War I Navy flying ace Lt. David S. Ingalls. Editor Geoffrey L. Rossano dug deep into a number of American and British archival collections and uncovered a wealth of documentation about his life.  He expanded on Ingalls's eloquently written unpublished diaries, correspondence, informal memoir, and personal documents while providing a window into the evolution of World War I American Naval Aviation. A brief foreword by USNI author William F. Trimble's attested to the importance of this account.  Rossano's lengthy introduction summarized how Ingalls's early life greatly influenced by the American war preparedness movement.
Ingalls was born into a prominent Ohio family.  His paternal side included influential railroad and financial executives, and his mother was the niece of President William Howard Taft. Ingalls entered Yale University in 1916 to study medicine but left school the following year to join the First Yale Unit, a US Naval Reserve Flying Corps aerial defense squadron, formed originally to protect American shores. He received aviation training in Florida and New York, eventually earning the rank of lieutenant (junior grade).  In December 1917, the unit was ordered overseas.  Ingalls reported to the Commander of United States Naval Forces Operating in Europe. He trained with the Royal Air Forces (RAF) and was attached to the British 213 Squadron the following summer.
Ingalls flew Sopwith Camels until he was temporarily reassigned to No. 17 Naval Squadron to learn how to fly bombers. After returning to his former Squadron, he began racking up a slew of victories.  From August to October 1918, Ingalls "compiled a combat record unequaled by any other American naval aviator in World War I, performing a feat that earned him the British Distinguished Flying Cross, the American Distinguished Serve Medal and the French Légion d'honneur."  Ingalls claimed over 108 hours of flying time and sixty-three flights over enemy lines. He engaged in thirteen attacks against German aircraft and two low-level attacks against enemy aerodromes, supply dumps, railroads and artillery.  It is estimated that Ingalls downed six enemy aircraft and kite balloons.  On September 15, he wrote: "Turning back, I dove, firing at two lorries standing near the shops, and, as I again hoicked away, I became aware of the sharp 'pat-pat' of several machine-gun emplacements firing from the ground."  In a letter home to his father, Ingalls defended his lack of frequent writing:
"It has cleared up for whiles the last few days, so we have flown a bit. Day before yesterday we had another low bomb raid on an airdrome and it was a great success. We blew the place to pieces literally, from about 150 ft."
Rossano detailed his post-war accomplishments in the afterward.  In 1919, Ingalls returned to Yale and continued his studies where they gave him college credit for work completed while in service. No longer interested in medicine, he graduated with an English degree in 1920 and entered Harvard law school.  Ingalls married the heiress to Standard Oil and served in the Ohio House of Representatives, which allowed him to remain active in aviation. He flew his own plane around the state and earned the nickname "the flying legislator." In 1923, he left Ohio for Washington and became the Assistant Secretary of the Navy under William Moffitt.  Ingalls tripled the number of naval aircraft and pushed for a fully deployable carrier task force. He left Washington in 1932 and had an unsuccessful run as Ohio governor. Afterwards, Ingalls pursued many other interests, among them directing Pan Am World Airways, publishing the Cincinnati Times Star, and practicing law. He died in 1985 at the age of 86.
Hero of the Angry Sky serves a dual purpose.  It is both a war memoir and biography of a relatively unknown, yet influential, pioneer of naval aviation. The combat service of World War I Navy flyers is often over-shadowed by Army Air Service aviators like Eddie Rickenbacker, Billy Mitchell and Frank Luke. Yet Rossano demonstrated how American naval aviators also played a significant role during the Great War. His contribution to the growing World War I historiography is timely with the commemoration just around the corner.
 Dr. Yockelson is a Professor of History at the U.S. Naval Academy