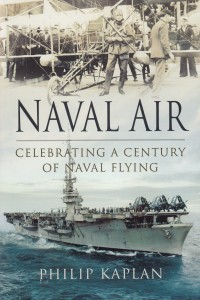 By Philip Kaplan, Pen & Sword Books, Ltd, South Yorkshire, UK, (2013)
Reviewed by Jan Churchill
Eminent aviation historian Philip Kaplan, an American living in Cheltenham, England, wrote a compelling book that explores the most significant aspects in the development of naval aviation over the past century. When air power became a major factor during World War II, the aircraft carrier replaced the battleship as the primary capital ship of the world's most powerful navies. This comprehensive and detailed account takes the reader from early development through wartime deployment in the words of the past century's greatest naval and marine aviators.
Attention is paid to key landmarks in naval aviation history, such as Taranto, Pearl Harbor, the Doolittle Raid, Midway, and the Korean campaign. Throughout the book, there are quotes from the flying aces about the high points of their combat careers. There are quotes from American, British, and Japanese pilots. This history concludes with the chapter "To The Fleet" describing the carrier air wing.
After a chapter on the first carriers, Kaplan discusses the Washington Naval Conference and Japan's role in discussions prior to the U.S. declaration of war. The winds of war were blowing in the 1930s and 1940s.  Kaplan explains how Japan talked peace while preparing for war and expansion in Southeast Asia and the Pacific.
The author knew General James Doolittle. The chapter on the April 1942 Doolittle Raid on Japan in April 1942 presents the details that made it so successful. A chapter titled "The Fighting Lady" discusses movies from the early years to World War II. Bringing history up to date, there is a chapter titled "Women on Board" as women flew from carriers starting in 1995. The progress and achievement of women aviators in the United States Navy has advanced in considerable measure. There is a section dedicated to the helicopter, its varying uses, current disposition and the status of various types in the U.S. and British navies.
Anyone interested in personal stories of naval aviators will find this fascinating reading. Quotes from numerous interviewees tell how pilots pursued their profession.  Much of the material is new.
Throughout the book, Kaplan gives all the specifications of the various naval airplanes used.  These include not only by the U.S. and Great Britain, but also the other countries that had naval aviators such as Japan, Argentina, France, and New Zealand.  Kaplan weaves multiple threads to produce a comprehensive and detailed history. This is more than a history of the various aircraft.  Naval Air tells the reader about the men and women who got them off the deck and flew them into a new century. The book is complemented by a collection of interesting photographs that will appeal to aviation enthusiasts. This 208 page book includes a bibliography and a detailed index.
Churchill was a former U.S. Coast Guard Auxiliary-Pilot