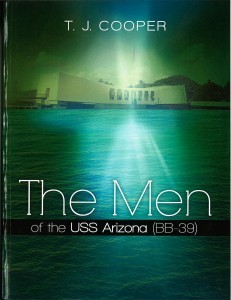 By T.J. Cooper, CreateSpace Independent Publishing Platform, Charleston, S.C., (2013)
Reviewed by LCdr. Jason P. Grower, USN
December 7th marks a somber occasion – the 72nd anniversary of the Japanese attack on Pearl Harbor.  It was a seminal moment which changed the world and defined a generation.  Thus the date is a remembrance of those events which drew the United States into World War II.  The chaos was not limited to the United States, that day, either.  As President Roosevelt told the nation on December 8th:
Yesterday, the Japanese government also launched an attack against Malaya.
Last night, Japanese forces attacked Hong Kong.
Last night, Japanese forces attacked Guam.
Last night, Japanese forces attacked the Philippine Islands.
Last night, the Japanese attacked Wake Island.
The whole world was at war.  Total war of a previously unimaginable scale had come, and by the time it ended, it would be fought by over 16 million.  We will always remember.
We also remember those who there on that day, at that dark hour, and there is no more poignant symbol than the USS Arizona (BB 39), the battleship whose sunken hulk has been transformed into a lasting tribute to a hard-won peace, and a memorial to the men and women who fought and earned that peace.  In Hawaii, Arizona still lays where she sank.  She still leaks oil, a shimmering yet subtle reminder of the hell that was brought to Pearl Harbor on December 7th, 1941.
In the decades since World War II ended, Pearl Harbor has been studied and recorded in myriad books, magazine articles, and movies: Stories of individual heroism, small units or ship histories, biographies of leaders, and so many more.  However, The Men of the Arizona (BB 39) takes a different tack – it tells the story of World War II through the history of every single Sailor assigned to Arizona.  Recently revised, author T.J. Cooper provides a broad overview of the history of the Arizona.  Ddetails about the massive battleship are purposely minimized to allow the reader's attention to focus on her crew.  The vast majority of the book is comprised of short biographies of those assigned to Arizona on that horrible day.
The book first tells the tale of each of the 1,177 men who perished, of whom 126 are unidentified.  They are the stories of men who were doing their duty, stories of men whose character was forged in the Great Depression, stories of men from all states and all walks of life, and yet were all unified on that day.  Men like Fireman Second Class Arthur Joseph Dupree, of St. Joseph, Missouri.  Dupree was named for his uncle who was killed on the last day, in the last hours of World War I.  Dupree himself was ironically killed in Arizona on the first day, in the first hours of World War II.   Seaman First Class Michael Zwarun, Jr., was incarcerated in Arizona's brig, having caused a little too much ruckus the day before.  Stories such as theirs might have been lost to history, were it not for Cooper's diligent research.
Every Sailor's story, however brief, is included.
There are also 335 surviving crew, less than 100 of who were actually on board during the attack.  The Men of the Arizona chronicles survivors whose names may be familiar to Navy history buffs, like Lieutenant Gordon Chung-Hoon who was at his battle station that day.  He went on to command the USS John W. Thomason during World War II, and continued his service through the Korean War and beyond.  Chung-Hoon retired from the Navy as a Rear Admiral in 1959, and an Arleigh Burke-class destroyer now bears his name, USS Chung-Hoon (DDG 93).
There are also men whose names may not be familiar, but are equally as inspirational.  Quartermaster Third Class Lou Conter was standing watch on the quarterdeck at the time of the attack, and remembers being thrown to the deck as a result of the tremendous magazine explosion between turrets 1 and 2.  He spent the next hours rescuing men from the water. Conter was later commissioned as an officer, joking that he thought his commission would be never be processed since his paperwork went down with the Arizona!  Flying the PBY-5 Catalina, an early long-range maritime patrol plane used for anti-submarine warfare, he was shot down and recovered – twice.  Conter retired as a Lieutenant Commander [As an aside, we were tremendously fortunate to have made his acquaintance when he visited our squadron, the VP-9 Golden Eagles, two years ago in Hawaii].  To this day, he tells his story – as one of only nine survivors of Arizona remaining, Conter is a national treasure.
The Men of the Arizona should not be read as a contiguous history, but rather as a lasting memorial to the men who served aboard BB-39.  T.J. Cooper has done an exceptional amount of research to compile stories of each of Arizona's veterans.  This book is a lasting tribute for each of the 1,512 men whose lives were defined by the attack on Pearl Harbor, that "day that will live in infamy," 72 years ago.
Lieutenant Commander Grower is an active duty Navy Officer and P-3 Orion Pilot.  He is currently assigned to the staff of the Chief of Naval Operations in the Pentagon.

[Editor's note: We will also include a few photographs that LCDR Grower's wife took of Pearl Harbor. Enjoy! All images copyright Bonnie Grower Photography (2010)]