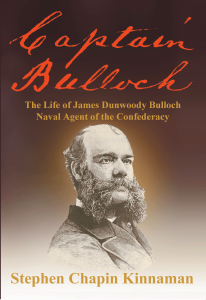 Captain Bulloch:  The Life of James Dunwoody Bulloch, Naval Agent of the Confederacy
By Stephen Chapin Kinnaman, Dog Ear Publishing, Indianapolis, IN.  (2013)
Reviewed by Mark Lardas
James Dunwoody Bulloch is best known as the man behind the Civil War's Confederate raiders.  He organized the construction and outfitting of Florida, Alabama, and Stonewall, among others. Despite his significance, no biography of him was written about him prior to 2010. Captain Bulloch: The Life of James Dunwoody Bulloch, Naval Agent of the Confederacy, by Stephen Chapin Kinnaman, is the second biography of Bulloch published since 2012.
It is not "johnny-come-lately," however.  Kinnaman's biography has its gestation in his earlier 2009 book, A Most Perfect Cruiser, which was a study on the construction of CSS Alabama.  Captain Bulloch is the outgrowth of Kinnaman's interest in the man spearheading Alabama's construction. The result is a comprehensive biography examining all facets of James Bulloch's life, from his 1823 birth in (or near) Savannah, Georgia, until his 1901 death in Liverpool, England.   Kinnaman puts James Bulloch's life into context through his ancestors and descendants.
Bulloch is revealed as a complex man with a multifaceted career. While best known for his efforts as the CSA's naval agent in Europe, he was also uncle to Theodore Roosevelt, the 26th President of the United States. Bulloch was an officer in the United States Navy, seeing service during the Mexican-American War. He later commanded civilian steam packets from 1852 until the start of the American Civil War.
The heart of the book is Bulloch's term as the Confederacy's naval agent, revealing his successes and failures in providing the Confederate Navy with ships, stores, and weapons. Kinnaman examines every facet of Bulloch's life, including Bulloch's childhood and education.  Kinnaman presents Bulloch's naval career in detail, reveals his personal life, and gives a look at his career as a steamship captain and life in New York City prior to the Civil War.
Kinnaman shows how Bulloch helped spark Roosevelt's interest in naval power, assisting Roosevelt with the preparation of The Naval War of 1812, still considered a standard work of the that war's naval aspects.
Captain Bulloch is well-researched.  The effort which Kinnaman exercised is revealed by the level of detail provided. He visited Savannah and Liverpool in his research, and made extensive use of primary sources and correspondence with descendants. The book is also engagingly written.  Readers may see the style of Samuel Eliot Morrison's maritime biographies echoed in Kinnaman's writing.
Captain Bulloch will interest anyone that follows the naval aspects of the American Civil War in this well-written maritime biography.
Lardas, an engineer, freelance writer, amateur historian and model-maker, lives in League City. His website is marklardas.com.