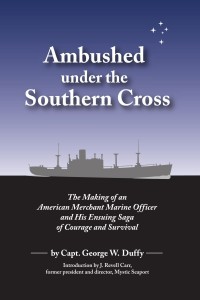 By Captain George Duffy, Xlibris Corp., Bloomington (2008)
Reviewed by Captain J.A. Peschka, Jr.
If you still get excited and riveted to your chair when you read a good sea story, then Ambushed under the Southern Cross is for you. This is not a history book written in academic prose with precise references and intellectual assertions to the event's impact on history. Indeed, there are no footnotes, and the extensive bibliography suggests it is a compendium of everything that Captain George Duffy ever addressed concerning the period of his education and service as Third Mate, his subsequent incarceration, and his post war activities with former shipmates and captors. Neither the bibliography nor the absence of footnotes detract from the story.
Ambushed is a documentation of the experiences and adventures witnessed by Captain Duffy throughout his life. His tale commences in October 1939 when he and thirty fellow cadets joined the school ship Nantucket where. There, he invested two years in preparation for shipboard duties at Massachusetts Nautical School. He goes on to describe his first trip as Third Mate, his captivity by two Axis powers, and finally his safe return to his family in October 1945.
This compelling story tracks the journey of a young man through the last class at Massachusetts Nautical School (which now operates as the Massachusetts Maritime Academy, which continues to train and educate knowledgeable deck and engine officers of good character, dependability, industry and integrity). The story continues with his experiences on his first ship, SS American Leader, subsequent sinking and captivity in the German raider Michel, the German supply ship Uckermark (ex Altmark of Graf Spee infamy), and finally through a series of Japanese prison camps.
The real strengths of Ambushed are threefold: Captain Duffy's propensity for detailed journal keeping, his most excellent ability to sketch, and his detailed memory. Of course any seaman worth his salt is adept at spinning a fair sea story. Typically, the details either wax or wane with each repetition, usually to the enhancement of the role of the teller. It is fair to say that any deviations from veracity in Captain Duffy's case are virtually non-existent because of his aides de memoire in the form of his meticulous notes and detailed sketching.
What is the benefit of Ambushed beyond a good sea story by an articulate and accomplished author? This should be another reminder of the nation's dependence on merchant shipping in peace, crises, and war. Sadly, that dependence is rapidly forgotten in peace and in budgetary cycles. We do not have mariners of sufficient numbers and skills, nor sufficient modern ships with the unique military characteristics necessary. Our experiences in past conflicts demonstrate the ever-recurring reality of this point. As one example, merchant marine manning was so deficient that intra-theater was accomplished in part by two squadrons of LST's in US Navy livery, one of which operated from Pusan, Korea, and manned by Korean seamen, while the other operated from Sasebo, Japan and manned by Japanese seafarers. This is hardly the mark of pride for a superpower. The need for the generational equivalents of Captain George Duffy and SS American Leader is the lesson that comes through. We owe a continuing debt of gratitude to both.
All in all, you will find this an interesting and engaging armchair work, so put it on your "fun" reading list and enjoy it.