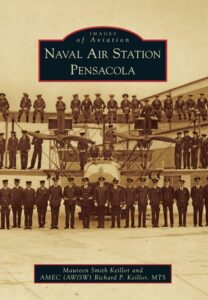 By Maureen Smith Keillor and AMEC (AW/SW) Richard P. Keillor, MTS, Arcadia Publishing, Charleston, SC (2014)
Review by Jason McHale
The Images of Aviation series commemorates the history of flight through pictures. More than eighty books comprise this series focusing on the early experiments, famous airfields, various aircraft and other aspects of aviation history. Images of Aviation: Naval Air Station Pensacola showcases the world's first naval air station and its development from 1914 to today. Starting with only nine officers and twenty-three men in 1914, the base grew into one of the most important sites for the continued development of naval aviation.
Beginning with an introduction that provides the early history of the Pensacola area, the book is divided into six chapters that show the history of the naval air station. Each chapter covers a specific time period in the base's history. As a pictorial history, the book has little text, and instead shows the historical narrative is provided through the pictures and captions. The lack of text only allows so much of the history of the base to come through. The book is interesting and well put together, but because it is a collection of images it might not need to appear on everyone's shelf. Instead, this book and others in the series are better suited for those interested in the location or event or to introduce younger readers to the history of aviation through images.

Jason McHale is an Adjunct Professor at Quincy College, Quincy, Massachusetts.