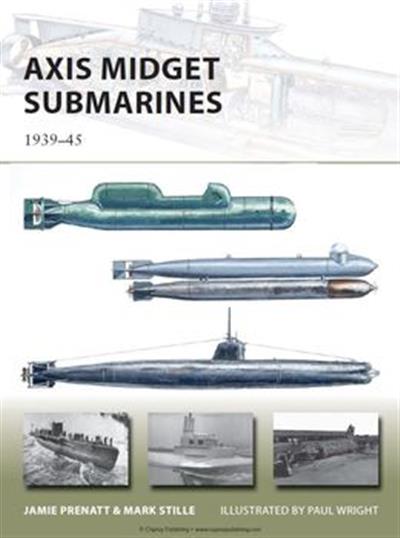 By Mark Stille and Jamie Prenatt, Osprey Press, Great Britain (2014)
Reviewed by James H. McClelland Sr.         
Senior Defense Department analyst Jamie E. Prenatt collaborated with retired Navy Commander and frequent Osprey author Mark E. Stille to research and write Axis Midget Submarines. Prenatt, who has taught military history, war gaming, and historical miniature painting at the Smithsonian Institution, provided his expertise on German and Italian submarines. Stille, an Imperial Japanese Navy expert, covered the Japanese midget boats.
Although small in size, this book provides a great deal of information concerning the development design and use of these small but effective weapons of war and the brave men who sailed in them. The well-researched information, photographs and drawings, and beautiful full-color artwork by Illustrator Paul Wright, a member of the Royal Society of Marine Artists, helps bring the book alive.
The authors provide an overview of midget submarines, the mysterious, little known, and often tragically effective naval weapon. Axis Midget Submarines is broken down into three chapters: Italy, Germany and Japan with each chapter packed full of information concerning the development, wartime service, and the men who fought in these machines. Each chapter begins with the history and doctrine of the nation's midget submarine programs. Chapters then progress effortlessly into development and designs. The final half of each section covers each nation's midget submarines wartime service spanning the Japanese in the Pacific, the German war effort in the North Atlantic, and the Italian efforts centered in the Mediterranean.
There are differences in the design, use, and environments in which they were deployed. When it comes to the men who fought, however, they were the same. Each man who entered their boat did so knowing it might be the last time. They were strong and brave, true to the spirit of their country. This book brings out this spirit of adventure. By the end of the book, you will understand each boat and the kind of men who operated them. This is an exceptional book that makes one hunger for more information.