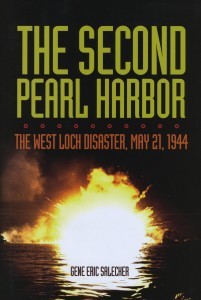 By Gene Eric Salecher University of Oklahoma Press, Norman, OK (2014)
Reviewed by Charles C. Kolb, Ph.D.
Among the maritime accidents during World War II in the Pacific Theater is the 1944 Port Chicago disaster, a munitions explosion at the Port Chicago Naval Magazine located in Port Chicago, California near San Francisco. The 17 July incident claimed the lives of 320 sailors and civilians and injured 390 others. The majority of these casualties were enlisted African-American sailors. A number of popular accounts were written about this incident and its aftermath, notably Robert Allen's The Port Chicago Mutiny (Berkeley, CA: Heyday Books, 2006), Leonard Guttridge's "Port Chicago" Mutiny: A History of Naval Insurrection (Annapolis: Naval Institute Press, 1992); and the National Park Service's website Port Chicago Naval Magazine National Monument; as well as a number of journal and newspaper accounts.
Two months earlier, on Sunday 21 May 1944, another maritime disaster had occurred in the West Loch at the Pearl Harbor Naval Base in Oahu. It involved an explosion in a staging area for Landing Ship, Tanks (LSTs) and other amphibious assault craft assembled for Operation Forager, the invasion of the Japanese-held Mariana Islands, notably Saipan. This incident claimed the lives of 163 naval personnel and injured 396 others. Only one significant book has been written about this event, William L. C. Johnson's The West Loch Story: Hawaii's Second Greatest Disaster in Terms of Casualties (Seattle: Westloch Publications, 1986), although brief accounts appear in the standard Pacific War histories by John Costello (The Pacific War, 1941-1945, New York: Quill, 1982), Samuel Eliot Morison (History of United States Naval Operations in World War II, Volume 8: New Guinea and the Marianas, Boston: Little Brown, 1953, several other editions such as Urbana: University of Illinois Press, 2001); and Carl Smith (The Saga of LST 224, Jackson, TN: Main Street Press, 1st ed. 2003, 2nd ed. 2004); plus a few journal and newspaper accounts. Johnson's self-published volume consists of 55 eyewitness accounts and 19 testimonies by survivors of the incident. The accounts and testimonies are accompanied by one map (p. 22) and 12 illustrations, although most do not document the actual incident). Years ago, I had read (and now reread) it given my assignment to review Salecker's new book-length volume.
Military historian Gene Eric Salecker is the author of four previous books. He wrote one on a Civil War maritime explosion, Disaster in the Mississippi: The Sultana Explosion, April 27, 1865 (Annapolis: Naval Institute Press, 1996), and three focusing on World War II in the Pacific: Fortress Against the Sun: The B-17 Flying Fortress in the Pacific (Cambridge, MA: Da Capo Press, 2001), Rolling Thunder Against the Rising Sun: The Combat History of the U.S. Army Tank Battalions in the Pacific in World War II (Mechanicsburg PA: Stackpole Press, 2008), and Blossoming Silk Against the Rising Sun in the Pacific: U.S. and Japanese Paratroopers at War in the Pacific in World War II (Mechanicsburg PA: Stackpole Press, 2010). His well-documented new book on the West Loch disaster is the first full comprehensive account of the incident and aftermath. Slacker's compendium has 22 short chapters, including five maps, 17 diagrams, 22 photographic illustrations of the event, 606 endnotes, and a 103-item bibliography. The latter includes 13 government documents from the U.S. National Archives, correspondence and interviews (six letters and 22 interviews – most dating to 2008), 27 journal and newspaper articles, eight unpublished and 36 Internet references, and 44 books. There is also a very useful "Chronology" covering the period December 1943 through 1953 but focusing on hourly events 21-22 May 1944. Three maps illustrate the lochs (p. 34), West Loch on 21 May (p. 58), and West Loch on 22 May (p. 177). The references to materials from the U.S. National Archives and Records Administration include items from the Naval Intelligence Unit, Navy Board of Inquiry, and LST Deck Logs; complete citations and archival locations (box and file numbers) are not always included. The key document (p. 259) is the "Navy Board of Inquiry Investigating the Causes of the Explosion and Fire at West Loch, Pearl Harbor," Office of the Judge Advocate General.
During World War II, 1,051 LSTs – nicknamed "Large Slow Targets" –were built in 16 U.S. shipyards and designed to carry a variety of fighting vehicles and Marine or Army personnel and served in the Mediterranean (Italy), eastern Atlantic (Normandy), and throughout the Pacific. In the first chapter, the author points out that during Operation Forager there were 47 LSTs among the 110 transport vessels. LCTs (Landing Craft, Tank) and DUKWs (Amphibious Trucks) were aboard many of the LSTs and many of the naval officers and personnel on the LSTs had not seen combat. A poorly executed rehearsal with Marines on the LST was held in bad weather on 14-15 May 1944 off Kahoolawe Island near Maui. This resulted in collisions, other accidents, and casualties. Salecker then details an LST in terms of dimensions, configuration, deckhouse, armaments, and provides seven images of typical LSTs before turning to a description of Pearl Harbor's three main lochs (East, Middle and West Lochs). West Loch is near Intrepid Point and Hanaloa Point and the Naval Ammunition Depot — Powder Point. LSTs berthed at seven Tares (docking spots or dolphins) each of which had moorings composed of clusters of wooden pilings banded with iron that were sunk into the shallow water in the loch. The first LST was tied up to a Tare and others berthed alongside the first, creating a nest of sometimes up to ten vessels. Slacker characterizes the LSTs and LCTs for each of Tares: Tare 3: 2 LSTs with 1 LCT, Tare 5, 4 LST's with 3 LCTs, Tare 6: 5 LSTs with 1 LCT; Tare 7: 3 high speed transports, Tare 8: 8 LST's with 6 LCTs, Tare 9: 7 LSTs with 2 LCTs, and Tare 10, 5 LSTs with 3 LCTs.
On Sunday 21 May, the LSTs were combat loaded with equipment and Marines preparing for Operation Forager while Army personnel and stevedores were loading 3,000 tons of munitions from the depot and the ammunition ship SS Joseph B. Francis using small craft and lighters. LSTs carried a crew of 119 men and 200 Marines, trucks, jeeps, and weapon carriers were carried on the main decks, all of which were loaded with ammunition. Mortar rounds (4.2 in/110 mm) from the "gunboat" LCTs were being loaded or offloaded because training had proved M2 mortars could not be fired accurately from LCTs. Each LST also carried from 80 to 100 55-gallon drums of high octane aviation gasoline on their forecastles and each had its own magazine and fuel capacity of 200,000 gallons and drums of lubricating oil, fog oil smoke pots, and floats were carried on the fantail. Some drums were partially filled or empty, being used to fuel the LSTs and LCTs and some personnel were using small tins of gasoline to clean their weapons. However, in spite of "no smoking" orders, some members of the Army and Marines were smoking. Shortly after 1500 hours (3:00 pm) the munitions handlers were on a break when, at about 1508 hours (3:08 pm), disaster struck at Tare 8. An explosion engulfed LST 353 apparently originating on the bow of LCT 936. Fragments showered the clustered LSTs, igniting gasoline drums and crates of ammunition and flaming debris and shrapnel went in all directions.
Slacker provides a masterful, highly detailed account of what transpired on those vessels affected and not affected by the blast. A second more powerful explosion damaged LSTs in Tare 9 and a third even more powerful explosion occurred in Tare 8. Men were unable to cast off mooring cables in order to escape the devastation and burning oil on the water complicated rescue attempts. Three LSTs drifted and struck other vessels and explosions sent debris and body parts miles away damaging 20 shore side buildings and causing casualties. Heroic actions, inactions, and indecisions followed, including efforts by some crews to save their ships (LST 274) and rescue comrades, aided by harbor tugs. Seven LSTs — some damaged – put to sea to avoid the carnage. Salvage efforts are also recounted. The book includes 14 vivid pictures of the post-explosion chaos and firefighting.
Three naval investigators from the Naval Intelligence Unit arrived almost immediately (1545 hours). They were initially concerned about sabotage and the fact that secret and confidential documents and maps of Operation Forager were being scattered to the winds. A Naval Court of Inquiry was established the next day under Rear Admiral John F. Shafroth Jr. and investigations began as a veil of secrecy descended. Six LSTs, three LCTs, 17 LVT Amtraks and eight howitzers were lost and the Navy began a search for suitable replacement vessels – 11 LSTs were found, equipment replaced, and Marine recruits were located to join the Operation Foraged armada that departed Pearl Harbor on 25 May. What of the human losses? An initial casualty list was issued on 14 June (p. 196), and new statistics were posted (p. 211) – but "no one really knew." Naval historian Admiral Samuel Eliot Morison was tasked with creating the "official" casualty list of 559: 163 dead and missing and 396 injured (p. 212). The Naval Court of Inquiry pointed to a "deplorable lack of elementary safety precautions in connection with open lights [i.e., smoking]" (p. 201 and several investigations sought to find the reason for such a disaster, However, no conclusive evidence as how it occurred was determined. Was the initial explosion caused by the mishandling of one or more mortar shells and/or the ignition of gasoline vapor? Admiral Chester Nimitz reviewed the report recommending that LSTs not be nested commented that nesting was necessary: "It is a calculated risk that must be accepted." Ultimately, no courts-martial or letters of reprimand were issued to anyone involved. Some still believe that sabotage was a viable possibility, while others point to inexperienced and untrained crews and other personnel flaws, and welding that occurred on LST 353 that same day.
Slacker, a police officer and administrator at Northeastern Illinois University, provides the reader with much food for thought regarding the actions and results of the West Loch disaster. He has blended details from official reports with first-hand accounts from oral history. His book may be difficult to read because of the level of detail but is a testament to diligent research and sheds light on the little-known "Second Pearl Harbor."

Dr. Kolb is an Independent Scholar retired from the National Endowment for the Humanities.