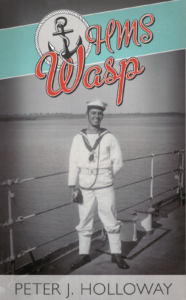 By Peter J. Holloway, Book Guild Publishing, Sussex, England (2014)
Reviewed by Ed Calouro
HMS Wasp is a work of historical fiction which largely mirrors the author's own life experiences, especially his own time in the Royal Navy. The novel's first chapter opens in the 1950s with Edward "Ted" Harris as a probationary teacher at Blackhawk Junior, a school for disadvantaged students in the East End of London. It then goes back to tell the story of the rather circuitous journey that led him there.
The reader quickly learns Ted was not a serious student in secondary school. He did make a point to stay after school on a regular basis for instruction in English, but that was because he was enamored with Miss Joy Fielding, his beautiful, blonde, blue-eyed English teacher. Upon reflection, Ted acknowledges he did not really apply himself nor fully value his education. His lack of ambition led him to a dead-end job at a bookkeeping firm. It took something extraordinary to shake him out of his lethargy. National Service, the British equivalent of the draft, opened Ted's eyes.
Ted was fortunate to land in the Royal Navy. After an intensive six-month training period at the RN Electrical School in Chatham, Ted was posted to the HMS Wasp, a sloop, built in the 1930s and showing her age. He, along with four other electrical mechanics second class, a leading electrical mechanic, and, most importantly, chief petty officer "RIP" Henderson, make up the Green Empire, the electrical division on HMS Wasp. It is Ted's good fortune to serve under CPO Henderson. He is a father figure who doles out good advice to his charges. It was the chief who encouraged Harris to sit for his General Certificate of Education (GCE) exams. His passing them opened the possibility of a college education and his future teaching career.
The other major benefit of National Service was Ted's yearlong service on the America and West Indies station. This took him to places he would not otherwise have seen, such as Jamaica; St. Lucia; Savannah, GA; Bermuda; and Nassau. A product of the 1950s, Ted was influenced by Sister Muriel at the Baptist School. She considered almost everything a sin and would have been shocked by what took place when the Wasp pulled into port. In Jamaica, Ted meets Paula, a woman of the world, who correctly pegs him as a "cherry boy." "Having his feet under the table," as the local expression had it, Ted quickly lost his innocence.
While he appreciates going to places he would not normally see, Ted laments that he no sooner got the feel of the place when the Navy ranked him away. He quickly concluded the navy was no place for a married man because of the long separations from family.
At the end of the year-long exotic cruise, Ted has to decide if he should sign-on for an additional five-year hitch or return to civilian life. Wisely taking the advice of CPO Henderson, he decides to further his education and heed his grandfather's advice, "if you want to be taken seriously in England, never take a job where you get your hands dirty." When the Wasp returns to England, Harris still has about five months shore duty to fulfill his two-year National Service. Along the way, he meets the mysterious Jean Fraser. She initially refuses to say much about herself, and there's a very good reason, but you'll have to read the book to find this out and what happens to CPO Henderson and the HMS Wasp.
Holloway has written an engaging first novel. The reader quickly becomes involved with the characters. Holloway's descriptions of events are not graphic and leave much to the imagination, as befits a story set in the 1950s. The author has set the stage for one or two more novels which continue Harris' life. The first volume is reminiscent of Frank McCourt's Angela's Ashes. There is room here for a sequel that takes us through Harris' college and university years. Then, Holloway might write a book similar to McCourt's Teacher Man, to cover Harris' subsequent life as a teacher in a school for students at risk. Based upon his enjoyable first novel, one hopes Holloway cranks out two more volumes – soon.

Ed Calouro is an Adjunct Instructor at Rhode Island College.