Violent Skies: The Air War Over Vietnam
A Symposium Proposed for October 2015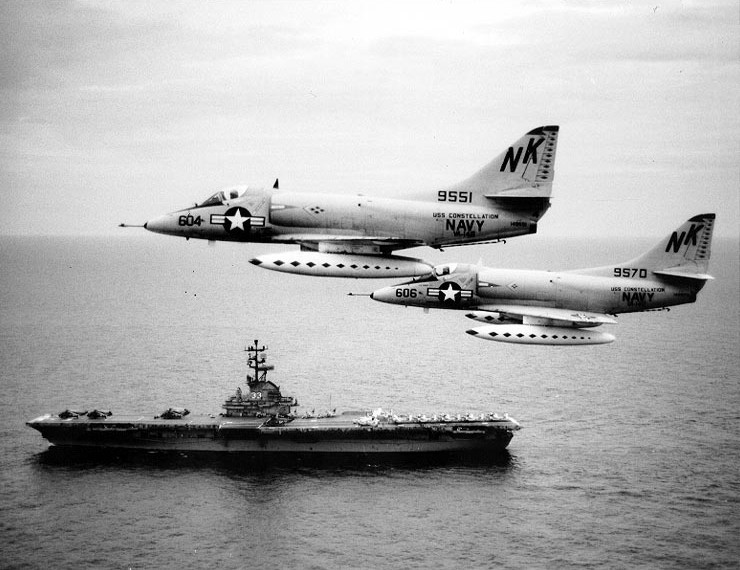 Four military service historical foundations—the Air Force Historical Foundation, the Army Historical Foundation, the Marine Corps Heritage Foundation, and the Naval Historical Foundation—recognize that a half century has passed since the United States became militarily engaged in Southeast Asia, and hope to sponsor a series of conferences involving scholars and veterans, aimed at exploring aspects and consequences of what once was known as America's Longest War.
For the first conference in the series, since all military services employed their combat aircraft capabilities in that conflict, the leaders of the four nonprofit organizations agree that the air war over Southeast Asia offers a compelling joint topic for reflective examination and discussion. The intent is to host a symposium on this subject in the national capital region on Thursday and Friday, October 15 and 16, 2015, potentially extending into Saturday, October 17. Other stakeholder organizations will be approached to join as co-sponsors of this event.
The organizers of the symposium envision plenary and concurrent sessions to accommodate a wide variety of topics and issues. Panel participants will be allotted 20 minutes to present their research or discuss their experiences. A panel chair will be assigned to provide commentary and moderate discussion. Commenters from academia, veterans, Vietnamese émigrés, and scholars from the region may be invited to provide additional insights.
Panel/Paper proposals may employ both chronological and topical approaches:
Examples of chronological subjects can include: U.S. air support in the early years; The Gulf of Tonkin Resolution and American escalation; the Rolling Thunder campaign; Tet and its aftermath; concluding combat operations to include aerial mining and Linebacker operations; and evacuation operations in 1975.
Topical proposals could include political and military leadership and decision making; recognition of individual service and sacrifice; joint service coordination; organizational command infrastructures; the rules of engagement; aircraft and armament capabilities; close air support; air mobility; airlift and logistical support; search and rescue; aeromedical evacuation; air-to-air combat; air defense challenges; air interdiction efforts; the prisoner of war experience; media coverage and public opinion; basing at sea and on land; training and advisory missions; air reconnaissance and intelligence operations; South Vietnamese/allied nation/ other organizations (eg. CIA) air operations; ethical and legal considerations; and environmental impact.
Those proposing a symposium presentation shall submit a 250 to 400 word paper abstract and a curriculum vitae /or short autobiography to Dr. David F. Winkler of the Naval Historical Foundation ([email protected]) not later than April 30, 2015. Panel proposals will be welcomed with a panel objective statement added to the submission of paper abstracts and C.V./bios.
Limited stipends to support presenter participation as well as a published proceedings of selected papers may be made possible through the support of conference partner organizations.