I took my wife on a date. Well, it wasn't quite a date, but I told her it was. I was working at an event in D.C., but dinner and drinks were involved. There were tiny hors d'oeuvres of bacon scallops and mushroom pastries filtering around. The dress code involved a cocktail dress for her and a business suit for me. It sounded like a date on paper – a fancy one at that. This wasn't just a typical date for me, which would normally be a trip to Costco to eat food samples and a hot dog. Either way, she believed me.
I should take her out more…
Last night, my wife Angela and I attended the National Maritime Historical Society Washington Awards Dinner at the National Press Club. The Naval Historical Foundation helped coordinate and sponsor the event.
Angela has been to history-related like these before. She found most of them worthwhile and important, but rather lackluster in the end. I cannot blame her. The company is always good, but she is not a naval enthusiast. She is, however, a GREAT sport. She tolerates my obsession with naval history from time to time, to which I am always thankful. I am the guy at get-togethers that argues over the validity of using the word "blockade runner" in the Star Wars franchise because they do not resemble Civil War blockade-runners or even remotely touch on guerre de course strategy of U-Boats in the First World War. I assured her that yesterday's line up of speakers, awardees, and guests would be different. I had an ace-in-the-hole. All I told her was that she'd "go fan-girl when she got there." That was enough for her to get her dress on and go.
Angela is a keen observer of what she calls "fandom." She herself is a lifelong lover of Japanese anime and Japanese culture. In order to gain her affection years ago, I attended an anime convention (or con) with her in Hampton, VA. The similarities between a historical society dinner and anime con are infinitesimal. It was something that meant a lot to her, and I wanted to support her. The same goes for last night.
To be honest, the world of anime is a world I do not understand. I can recall talking with several big names in the field of anime with her during that first con. "Can you believe we talked to somebody who worked on Ghost in the Shell," she said to me. I shook my head in blind agreement, not knowing completely what it meant but knowing full well that it was special.
Greenert. Braun. Warner. Winkler. Dudley. These are individuals who keep history relevant and inspire others to do the same. These are my rock stars. They are my heroes. Maritime and naval history is my fandom. I am their fan. And they were all in Washington, D.C. last night.
The evening began as many other awards do, with conversation flowing freely all along the top floor of the National Press Club. When the dinner and awards presentation began, my wife and I shuffled into the large ballroom and sat down next to several distinguished guests I immediately recognized. She saw the glow in my eyes and knew that THIS meant the world to me.
The evening's festivities centered on the presentation of three awards for distinguished guests in the field of maritime history. Unfortunately, the first recipient of the NMHS Distinguished Service Award, Senator Barbara Mikulski, could not be there. Thankfully, Senator John Warner accepted the award on her behalf. He entertained the crowd during her "acceptance" speech and included an anecdote about Mikulski's contributions to maritime history and for women in the Senate. Above all else, Warner wanted to highlight the role that the Senator played in making that position one where women could make significant and lasting programs and partnerships for everyone, not just in the state of Maryland. Mikulski is more than just a champion for the Port of Baltimore and the maritime industry; she is a trailblazer for women everywhere.
For the Naval Historical Foundation, the big event of the evening was the presentation of our inaugural Distinguished Service Award to the 30
th
Chief of Naval Operations, Admiral Jonathan W. Greenert. This award is presented to individuals "who make extraordinary contributions for the advocacy of naval history." Before Admiral Greenert went up to accept the award, we showed a short video highlighting CNO's legacy and commitment to our Navy and the proud history is continues to make today:
"We need to bring history back into the mainstream," he said. "We need to get back to our roots, to what makes us who we are. We are Sailors, we go to sea." NHF Chairman Admiral Bruce DeMars, USN (Ret.) presented the award to Admiral Greenert. As always, Admiral Greenert was humble about his role in keeping the importance of naval history alive. I can only stand back and appreciate everything he has done for the field, from his support of the bicentennial of the War of 1812 to the current centennial of the Naval Reserve and Office of the Chief of Naval Operations. He is a CNO at a tie when history is celebrated, and we are all thankful that he has embraced it like an old friend. CNO also received an original "Don't Tread on Me" Flag, the official U.S. Navy Jack, by Ambassador J. William Middendorf II. Middendorf conceptualized the flag in 1975, the same year Admiral Greenert graduated from the United States Navy Academy to begin his long and illustrious career in the Navy. For a man who appreciates history, the symbolism was perfect.
The evening's ace-in-the-whole for me, however, was the recipient of the other NMHS Distinguished Service Award to media entrepreneur and philanthropist Harold F. "Gerry" Lenfest. Among the many contributions he has made throughout his life to the preservation of maritime and naval history, his most recent piqued the attention of my wife the most. Mr. Lenfest recently made a contribution of nearly six million dollars to the SS United States Conservancy, the group responsible for preserving the former luxury liner. "The SS United States is worth keeping and worth saving," Lenfest once said.
As much as my wife loves anime, sewing, or making crafts, she treasures the SS United States above all others. I once asked her why she loved it so much. It's a story I never tire of:
"Years ago the ship used to be docked over near the Norfolk Naval Base. It sat there for many years. My dad owned a small boat at the time, and back then you could get really close to the ships. I remember waving to the men on the ships we passed from time to time, and they always waved back.

Anyway, the United States was special. My mom and dad told me it used to be a passenger liner and it was just sitting in Norfolk until someone decided to do something with it. Me, I had just recently developed a healthy fascination with the Titanic and it intrigued me SO MUCH that an abandoned passenger liner would still be afloat. I used to ask my dad to coast our boat up next to it all the time, probably every single time we passed it. I remember staring up at the lifeboats and seeing plants growing out of them. I always wished our boat was big enough so I could see inside one of the portholes. I wanted to walk on that deck. Just one time. I think, as a kid, I always imagined something preserved and perfect inside, but of course that's nowhere near the truth."
With the help of Lenfest and the Conservancy, that dream might become a reality. We have planned a trip to see it in Philadelphia for many years now, but have not due to scheduling conflicts and our recent move into the area. Now, here was the main essentially responsible for keeping the ship afloat in the flesh. This was no longer fandom for her. It was a deep sense of purpose and an emotional connection to her past.
When the evening ended around 9:30, we began to file out. Looking around, I could not find Mr. Lenfest. Looking a bit disappointed, my wife sat patiently as I wrapped up things with the other NHF staff members. While I went to the bathroom, my wife had a chance to talk to Captain Todd Creekman, USN (Ret.), NHF Executive Director. She explained her disappointment of not being able to meet Mr. Lenfest and tell him her story. "I'd be happy to introduce you to him," he said. I did not see the look on her face, but it was apparently priceless.
By the time I got back from the bathroom, I had just enough time to snap a cell phone picture of Angela embracing Mr. Lenfest. It was a touching moment for me. It was nothing compared to what she felt at that moment. She had embraced the fandom. She had a chance to tell him how much the ship meant to her.
As she attempted to compose herself before she left, she continuously apologized to me for "making a scene."
"I'm sorry if I embarrassed you," she said over and over to me. The tears were still coming out.
"Why would you think that," I said. "I am just grateful that you had a chance to tell him about the importance the ship has on your life." She began to relax after that, and we ended the evening with smiles and laughter.
I hope I can find a way to top last night's date. I don't see it happening anytime soon.
You can see the postser we created in honor of CNO and the creation of the Navy Jack by clicking the image below.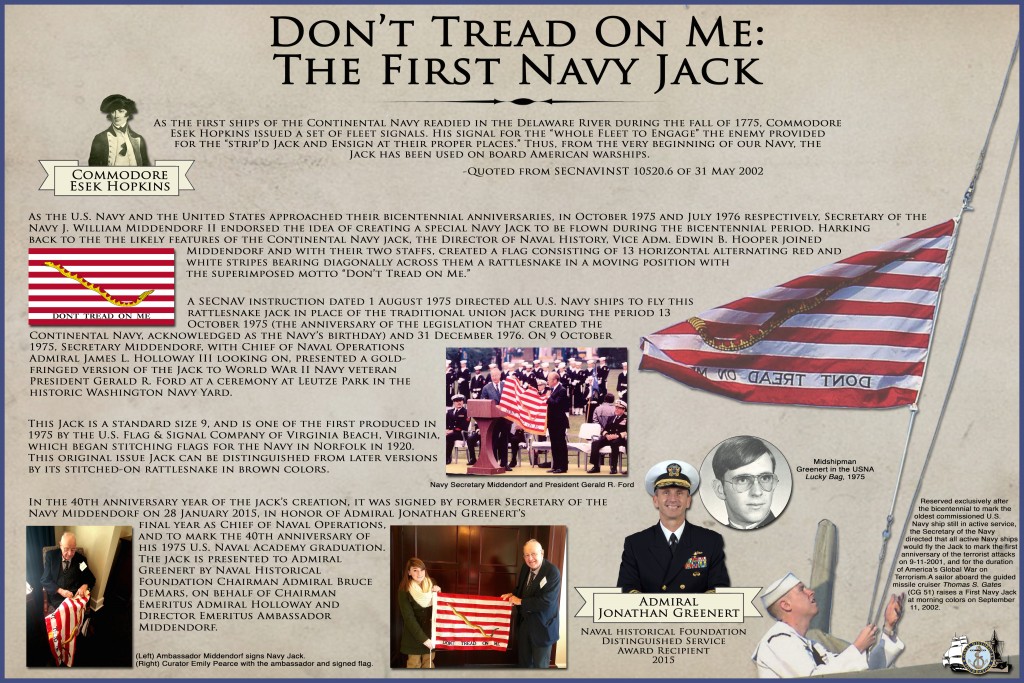 By Matthew T. Eng