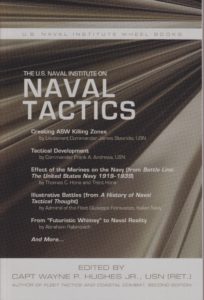 Edited By Captain Wayne P. Hughes Jr., USN (Ret.), Naval Institute Press, Annapolis, MD (2015)
Reviewed by Nathan Albright
According to the introduction of this book, wheel books were originally a highly individualized and abbreviated way for inexperienced officers to gain insight vicariously through the writings of others and for more seasoned officers to have a useful reference for matters of importance. This book serves as a more standardized wheel book concerning the issue of tactics. Since the U.S. Navy has not been involved in ship-to-ship combat on any large scale for a long time, this book does well to provide at least some sort of institutionalized instruction on this vital matter for its intended audience, namely officers in the Navy, Coast Guard, and Marines.  Skillfully edited by retired naval Captain Wayne Hughes, Jr., this book is perhaps too large to fit into most pockets, but it is small enough at 200 pages that it should both meet the demands of busy officers and also whet the appetite of readers for the larger works these excerpts come from.
In terms of its material, the book's focus on tactics allows for wide-ranging examinations of what is considered within its purview.  For example, it includes excerpts on a proposed naval peacekeeping effort between Greece and Turkey to avert the risk of full-scale war, an exploration into the anti-ship missile capability both in a fictional Cold War scenario as well as the Israel's real experience during the Yom Kippur War, and a British naval officer's discussion of the naval tactics of the Falklands War.  Other excerpts explore the hazards of ship-to-ship combat in the Civil War for Lt. William Cushing, and the importance of courage in the face of inevitable difficulties and severe risks.  Other excerpts look at the issue of amphibious assaults, both from the perspective of the U.S. Marines and their changed purposes in the interwar period (thanks to the writings and thinking of people like Ellis and Lejune, among others) as well as the prospects for successful amphibious defense based on lessons from the period after Gallipoli, when modern amphibious assaults under enemy fire became more frequently practiced.
In terms of its tone, the different excerpts vary considerably. Some of the writings within this book explicitly seek to mine the experiences of the past for lessons to the future. This is particularly appropriate, since actual combat experience is infrequent in recent decades.  Still others seek to conduct mental experiments concerning the behavior of potential adversaries for the U.S. Navy and Marines that would require effective countermeasures on our part. Among the more notable conclusions that follow from some of these writings is the need for less expensive and smaller ships to serve vital tactical roles in potentially risky foreign endeavors, an area where America has tended not to do well in recent decades, but an area of considerable importance in an age of retrenchment and sequestration in military budgets.
Although there is no substitute for practice, this book offers a compact but broadly useful guide to naval tactics with a wide historical perspective, as well as thoughtful integration of tactical concerns with issues of strategy and logistics that can provide useful material for thought and reflection for serious-minded naval officers. In its judicious use of available historical material as well as in the thought experiments it proposes, in its combination of familiar and more obscure materials, and in its helpful introductions to the abridged material it contains, this book manages to succeed in providing a guide to the underserved issue of naval tactics that ought to serve its readers well, and to increase interest in future guides on different subjects.

Nathan Albright lives in Portland, OR