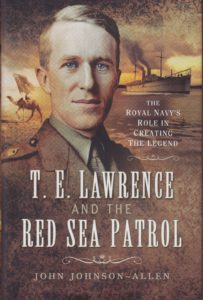 By John Johnson-Allen, Pen & Sword Military, South Yorkshire, England (2015)
Reviewed by Diana L. Ahmad, Ph.D.
Thoughts about World War I often bring up images of trench warfare, Big Bertha, and the battles at Liège and Flanders Fields, but rarely does the conflict to protect the Suez Canal enter into the reader's mind.  John Johnson-Allen's book focuses on the Red Sea campaign that freed the Ottoman-held area and helped the Arabs takeover the peninsula.  The author credits the Red Sea Patrol with victory over the Turks and states that Lawrence could not have succeeded in aiding the Arab Revolt against the Ottoman Empire without the support of the Royal Navy.
Johnson-Allen went into significant detail about how the vessels from the Royal Navy, the Royal Indian Marine, and even the Arab dhows helped to protect the Suez Canal.  He discussed the various units from numerous parts of the British Empire that participated in the efforts to prevent the Turks from overrunning the Canal.  The Royal Navy carried supplies including ammunition, weapons, and food, to Arab forces on the Arabian coast in the Gulf of Aqaba.  The Red Sea Patrol seems to have spent most of its effort in that small part of the region.
Although the title of the book uses T.E. Lawrence's name, there is little in the book about Lawrence. While many readers are likely to pick up the book because of this, the author rarely brings him into the work. The book is more about the importance of the Red Sea Patrol than Lawrence's role in it. With that in mind, a chapter or two about the history of the region including the role of the British in Egypt and their role in the Arab Revolt would have clarified the importance of the area to readers. The author provided incredible detail about the comings and goings of the vessels, often without need. The author does not explain the Royal Navy's role in patrolling the entire Red Sea region but he briefly noted German efforts to gain access to the waterway. Perhaps the book should have been retitled to show the significance of the Red Sea Patrol, rather than the role of Lawrence. More about Lawrence was needed to enhance the author's thesis.

Dr. Ahmad teaches at the Missouri University of Science and Technology.