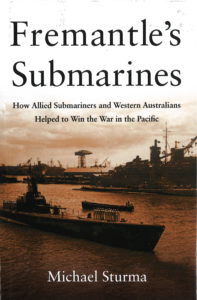 By Michael Sturma, Annapolis, MD, Naval Institute Press (2015)
Reviewed by Charles Bogart
This book is a joy to read. The author, using a variety of primary sources, has compiled a social and administrative history of the U.S. Navy's World War II submarine base at Fremantle, Australia. With the loss in December 1941 of the Cavite Naval Station in Manila Bay, U.S. Navy submarines based there began a slow retreat southward to Fremantle, Australia. At Freemantle, a submarine base was built beginning in May 1942 which would be used during the war by American, Dutch, and Royal Navy submarines. Between May 1942 and September 1945, submarines based at Fremantle made 416 war patrols.
While the central topic of this book is submarine warfare in the Southwest Pacific, the author focuses not on the various submarine war patrols, but on the day-to-day life of the submariners at Fremantle. We meet the submariners as they enjoy life ashore; meeting woman, drinking, and relaxing. The author includes a discussion of the material support the Australians provided to the Fremantle Naval Base in the form of direct and indirect labor.
The provision of food was one of the main support functions performed by the local population. However, the majority of the American sailors had trouble working up a taste for mutton and rabbit, two of the main meats supplied by the Australians.
Constantly percolating in the background of the book is the administrative task faced by the American officers who commanded the submarines based at Fremantle: Captain John Wilkes, Rear Admiral Charles Lockwood, Read Admiral Ralph Christie, and Rear Admiral James Fife. There is also discussion within the book of the war patrols made by Royal Navy and Dutch submarines along with accounts of their men's experience ashore in Australia. Closure of the Fremantle Submarine Base began in May 1945 when Rear Admiral Fife moved his headquarters to Subic Bay in the Philippines.
The author of this book has crafted a splendid account of men in war in which he blends both social and military history together to form a seamless story. Fremantle Submarines deserves to be in any library trying to cover submarines in warfare. This book is a welcome compliment to Lynne Cairns' book Secret Fleets: Fremantle World War II Submarine Base.

Charles H. Bogart is a frequent contributor to Naval History Book Reviews.