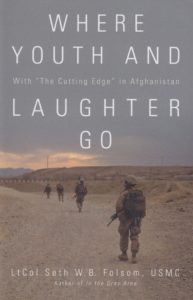 By Lt.Col. Seth W. B., Folsom USMC., Naval Institute Press Annapolis, MD (2015)
Reviewed by Charles Bogart
This is the third book by Lt. Col. Folsom concerning his experiences fighting the War on Terror. In 2006, he published The Highway War: A Marine Company Commander in Iraq. In 2010, he wrote In The Gray Area: A Marine Advisor Team at War. This book recounts his experiences during the period 2011-2012 as commanding officer of 3rd Battalion, "The Cutting Edge" 7th Marines (3/7). During this period, he and his men during had the impossible assignment of bringing law and order to Afghanistan's Sangin Valley, an area controlled by the Taliban. The author focuses on both the big and small picture. We are treated to an examination of the overall problem 3rd Battalion faces and the on the ground tactics he and his men employee.
Lt. Col. Folsom allows the reader to enter into his mind from the day he receives his orders to take command of "The Cutting Edge" until he turns command of the 3/7 over to its next commanding officer. Perhaps the most interesting part of the book is the first 50 pages.
within these pages, we follow LtCol Folsom as he works to build his battalion into an efficient fighting team. The author freely discusses the problems he encountered in developing a war fighting capability within his battalion. An interesting observation made by the author in his book was how the tactical situation in Sangin Valley was always in a state of flux. When the 3/7 returned to a former battlefield, the present battlefield was a different from the one they left only a year ago.
The story of 3/7's seven-month tour in Afghanistan is one of constant patrolling and taking casualties. The unit would lose seven men in action with twice as many men would lose one or more limbs. Danger lurked everywhere in the form of ambushes, sniping, and IEDs. The author laments that the Afghan soldier lacks the work ethic of his Marines and that the civilian community he and his men are trying to protect sit as passive observes of the fighting going on around them. Lt. Col. Folsom and his men during their deployment, must constantly juggle the manpower needs of protecting their bases and conducting aggressive patrolling while observing the Rules of Engagement, to insure no innocent lives are taken, while the enemy flouts these rules.
This book is destined to become a classic on unconventional warfare. The author's writing draws the reader into the scene being presented whether on the battlefield or elsewhere. Anyone seeking to prepare themselves to lead men and woman into battle cannot go wrong by reading this book.

Charles H Bogart resides in Kentucky.