By Captain George W. Stewart, USN (Ret.)
As discussed in the previous post in this series, my detailer informed me in 1971 that my next assignment would be as Officer in Charge of something called a Fleet Introduction Team (FIT) at the Avondale Shipyard where USS Blakely (DE 1072), my previous ship, was built. The FIT team's purpose was to guide the nucleus crews of the remaining 14 Knox-class frigates under construction at the shipyard through the pre-commissioning process. The detailer gave me a contact at OPNAV in Washington that could provide me with more information on the assignment. The OPNAV contact said he would mail me a copy of my new charter. In the process, he informed me that when they had set up the working group that established the FIT team, they had specified that the Officer in Charge would get command of the last ship in the program. There was no way that I could turn that down. So my family and I set out from Charleston, South Carolina, to New Orleans, Louisiana.
First, a bit of geography. We were headquarted at the Naval Support Activity (NSA) on the West Bank of the Mississippi River across the river from downtown New Orleans. The ships were built at Avondale Shipyard in Westwego, upriver from the city on the West Bank. It was about a twenty-minute drive from the NSA to the shipyard. Since I would be spending the majority of my time at the NSA, it was obviously to our advantage to live nearby. So, we rented a two story house in Algiers, only about a mile from the NSA. It was a very convenient location and I was usually able to come home for lunch.
As mentioned in the previous article, the Knox-class constituted the largest single U.S. naval shipbuilding program since World War II. The ships were intended to serve as convoy escorts originally referred to as Destroyer Escorts (DE). In 1975, the ships were re-designated as Frigates (FF). The ships were the subject of a considerable amount of controversy because of their single screws and single 5-inch guns. But they became very effective anti-submarine warfare platforms with the addition of passive towed array sonars and helicopters. Forty-six ships of the class were scheduled. The first ship of the class, USS Knox (DE 1052), entered service in 1969. The ships were built at Todd & Lockheed Shipyards in Seattle, WA, Todd Shipyard in San Pedro, CA, and Avondale Shipyards, LA. My previous ship, USS Blakely (DE 1072), was the fifth ship of the class. For economy, the Navy decided to build the last fifteen ships of the class (DE 1078 through 1097) at Avondale. The last ship in the series, DE 1097, was scheduled for delivery in 1974. At the time I took over the FIT Team in 1971, it was not yet named.
I was scheduled for briefings In Washington, Newport, and San Diego prior to reporting for my new FIT team assignment. It was my first visit to the Pentagon during my career where I was given a copy of my OPNAV (issued by the Chief of Naval Operations) charter. It said to organize a team of about 30 officers and men at the shipyard. Our assignment was to provide continuity, liaison, on-site training, administrative, and supply support to the nucleus crews of the Knox-class ships under construction at Avondale.
Our immediate boss would be the Commander, Cruiser-Destroyer Force Atlantic (COMCRUDESLANT) in Newport, Rhode Island. On paper, I reported to a rear admiral. But in practice, I actually reported to the new construction program officer, a lieutenant commander in the engineering section of that staff. I must confess that being in charge of my own operation with my nearest boss in Newport sounded pretty attractive to me. My title was officer-in-charge, but I would essentially function as a commanding officer.
I found out that the team was already in place and functioning, headed by the prospective commanding officer (PCO) of USS Cook (DE 1083), then under construction. The plan was for him to turn the operation over to me after I reported in. We had an extension office right next to the building ways at Avondale Shipyards where we conducted our waterfront operations. That was where the bulk of the FIT team consisting of about 15 senior enlisted ratings would operate under the direction of our engineering and weapons officers. Their job was to conduct one-on-one training on Knox-class ship operations with the ships nucleus crewmembers.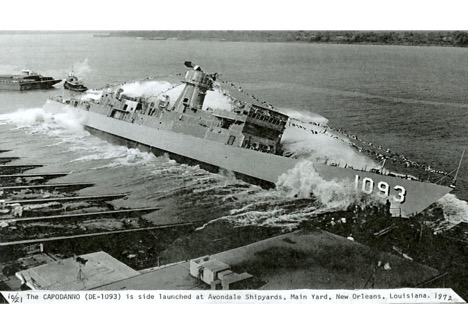 Avondale had a unique production line method. They built five ships at a time, side by side. Their construction climaxed with a sideways launch into the Mississippi River, accompanied by a giant splash. As a ship was launched, the others would be moved to the next position and a new one would be started. Each ship took about one year from keel-laying to launch. It would be another ten or eleven months to complete and deliver the ships to the navy.
The first step upon arrival in New Orleans in the summer of 1971 was to call upon the Supervisor of Shipbuilding, 8th Naval District (SUPSHIP 8). He oversaw construction of the ships and administered the shipbuilding contract with Avondale. His immediate boss was the Ship Acquisition Program Manager (SHAPM) also a captain based at the Naval Sea Systems Command (NAVSEA) in Washington.
At the time, the nucleus crews consisted of six officers, including the prospective commanding officer (PCO), engineering, weapons, and supply officers, twelve chief petty officers, and fifteen enlisted men. They received their orders approximately four months prior to the ship's commissioning.  Up until that time, the nucleus crews had been required to find their own way through the pre-commissioning process.  It was about a ten-week cycle from the time that the ship's crew reported until sail away and we had a lot to accomplish during that period. With very able assistance from my supply officer, LCDR Bill Riddell, we would have the ships administrative and supply offices set up and functioning with all necessary publications in place at our Naval Support Activity office. I maintained regular contact with the detailers at the Bureau of Personnel (BUPERS). As soon as a PCO had been identified, I would contact him and provide him with an outline of what to expect. I made it a practice to meet him at the airport and take him first to his office at the NSA and then to the apartment complex the Navy rented for the crew's use. My first week with him was quite intense. It included some classroom sessions to explain the shipbuilding organization and upcoming schedule, taking him over to meet the SUPSHIP and his staff, and then taking him on a complete tour of the ship. None of the thirteen PCOs that I worked with had ever served on a
Knox
-class ship, so my background as XO of
Blakely
and experience with 1200 psi engineering systems proved quite valuable.
About two weeks after the arrival of the PCO, it would be time for builder's trial. This was a three-day operation involving getting underway for the first time, steaming down the Mississippi River out to the Gulf of Mexico (about 50 miles), putting the ship through its paces, and then returning to port. The ship was operated entirely by the shipyard's trial crew. We were just along as observers. I functioned as the COMCRUDESLANT representative and wrote up a report upon completion of the trial. I found it a great learning experience and I figured that it would be good preparation for command of the last ship. But there would be some bumps in the road before that would happen.
About a month later, it was time for the acceptance trial when the SUPSHIPS would present the ship to the Board of Inspection & Survey (INSURV). The agenda was essentially a repeat of the builder's trial. But this time, the ship would be observed by the INSURV inspectors who wrote up discrepancies that had to be adjudicated by the SHAPM before the ship could be delivered. In a worst case scenario, the INSURV Board might reject the ship entirely and require a retrial. So there was a lot riding on the outcome.
Our first acceptance trial would be aboard the USS McCandless (DE 1084) in December 1971.  We assembled in the wardroom waiting for the President of the Board of Inspection and Survey (PRESINSURV) and his team of inspectors to arrive. I was aware that PRESINSURV was Rear Admiral J.D. Bulkeley, "P.T.  Boat Bulkeley," who as a young lieutenant had evacuated General MacArthur from the Philippines during World War II and earned a Congressional Medal of Honor for his wartime heroism. He was quite well known in the navy and was nearly as much of a national icon as Admiral Rickover. It was the first time that I had ever met him. All of us were quite intimidated by him at the time.  But for me at least, that was all to change about ten years later when he became my boss during my last five years on active duty. The McCandless acceptance trial did not go very well.  Upon completion of the acceptance trial, RADM Bulkeley rejected the ship and called for a retrial. I was not displeased because the ship did have some significant deficiencies.
On the home front, life in New Orleans was like living in another country. Things were very different down there. We arrived right in the middle of a political campaign and there were signs all over the place. The politicians all seemed to have names like Bubba, Taddy, and Speedy. However, Mardi Gras proved to be a lot of fun. We attended a number of parades in downtown New Orleans and a couple of them went right by our house. I can still remember my wife diving to catch beads that were being thrown down from the floats. We accumulated quite a collection. The navy provided us with season tickets to the New Orleans Saints who were not very good back then. But we were only paying what was effectively a dollar per game including free transportation to Tulane Stadium. The most prominent player on the Saints at the time was Archie Manning.
The job itself was going quite well. My three principal assistants, LCDR Dave Klinkhammer (engineering), LCDR Bill Riddell (supply), and CWO John Sheirling (weapons), were a great help. After a couple of ships crews had gone through our program, we had our act together pretty well and our program was becoming a big hit. It was obvious to everybody that a FIT Team was the way to go. Prior to our arrival, the ships crews had to figure out for themselves what to do and there had been a good deal of floundering around. By contrast, we had things pretty well laid out for them when they arrived.  The PCOs were showing their appreciation by a steady stream of letters of appreciation to my boss as they departed.
I mentioned earlier that when I took the assignment, I was told that it was intended to lead to the command of the last Knox-class ship to come off the building ways. Before being assigned to the command of a naval vessel, they required an officer to be selected by a formal screening board composed of a group of senior officers in Washington, DC. The 1972 board convened in February, and I discovered that I had failed selection. This was definitely a significant career setback and it would be the precursor of a running soap opera that would last for the next two years.
That spring, I was visited by my titular boss, Rear Admiral Thomas Wechsler, COMCRUDESLANT from Newport R I. He expressed strong support for my program and indicated that he would attempt to use his influence to assist me on the next go around.
I was enjoying the assignment. It had little direction from the outside and it was nice to have my bosses many miles away in Newport. But I was quite fastidious when it came to keeping them informed by telephone. I got to spend quite a bit of time on the ships and I went out on all of the sea trials where I acted as the COMCRUDESLANT representative. I got into all areas on the ships. As I went along, I was becoming the navy's reigning expert on the Knox-class ships. I only hoped that it would eventually lead somewhere career-wise.
We ended up supporting the nucleus crew of the last fourteen ships of the class that entered service between 1971 and 1974. Bear in mind that all of these ships were originally designated as destroyer escorts (DE) and were re-designated by CNO as frigates (FF) in 1975. These included:
USS McCandless (DE 1074)
USS Donald B. Beary (DE 1075)
USS Brewton (DE 1076)
USS Kirk (DE 1077)
USS Barbey (DE 1088)
USS Jesse L. Brown (DE 1089)
USS Ainsworth (DE 1090)
USS Miller (DE 1091)
USS Thomas C. Hart (DE 1092)
USS Capodanno (DE 1093)
USS Pharris (DE 1094)
USS Truett (DE 1095)
USS Valdez (DE 1096)
USS Moinester (DE 1097)
Some dramatic things were about to happen on the job.  As previously mentioned, I was normally assigned as the COMCRUDESLANT representative on the builders and acceptance trials and one of my assignments was to write a message to my boss summarizing the results of the trial. On three successive trials, we experienced ruptured boiler tubes. On two of these occasions, I was in the fire room next to the boilers when this occurred. Although nobody was injured, this was a serious situation. I did not like to be standing next to a 1200 psi boiler when parts started breaking, so I made a comment in my summary report that this was the third occurrence and something needed to be done. The results proved to be rather dramatic as a board of investigation from NAVSEA promptly arrived in town to look at the situation. Within a week, SUPSHIPS had been fired. I certainly did not intend anything like this to happen. Despite some initial difficulties with him, things had pretty well settled out by then and I did not bear any ill will toward him.
By now we were up to DE 1093 and it was the tenth ship to go through our FIT program. We had received letters of appreciation from just about every PCO that had passed through over the previous two years. But the future was still a bit uncertain because I failed selection for command again in 1973.
By December 1972, the last ship of the class, DE 1097, acquired a name (USS Moinester), but a PCO had not been named for it. We decided to attend the launching which took place in May 1973. But we had to leave before the ceremony when we found out that my sons had an altercation that resulted in a window being punched out in our house. Fortunately, neither was hurt. But we missed the launching. So 1973 came to a close. There was a lot of uncertainty with what 1974 would bring. Stay tuned. If this sounds like a soap opera, it came close to being one.
In January 1974, I received a letter from BUPERS. Much to my relief, it informed me that I had been screened for command. In April, I received my official orders as the PCO of the USS Moinester (DE 1097). The ship was due for commissioning in November. Its home port would be Norfolk, Virginia.
The USS Moinester (DE 1097) was named for Lieutenant jg Robert W. Moinester, a naval officer killed at age 24 in 1968 in Hue, South Vietnam during the Tet offensive by the North Vietnamese forces. After an investigation, I discovered that he was from Lynbrook, Long Island, New York. His mother, Gertrude, was the ships sponsor having broken the traditional bottle across the bow when the ship was launched in May of 1973.
Obviously, my first action would be to contact Robert's parents, Gertrude and Bob Moinester. When I asked them who they would like for a commissioning ceremony speaker, they mentioned their local congressman. I asked them if they would like New York Senator James Buckley instead and they said that would be even better if I could pull it off. When I contacted the Navy Bureau of Public Affairs, the reply was in the affirmative. We were all delighted. I was required to attend a 3 week PCO course in Newport. So my family and I decided to go ahead and make the move to the Norfolk area, where the ship would be homeported.
I had to be back in New Orleans in June 1974, when the nucleus crew would be reporting. It consisted of six officers and 27 enlisted personnel. They would be trained by my FIT team, which would then be disbanded. The balance crew consisting of about 220 personnel would be assembled in July by the prospective executive officer, Lieutenant Commander Ted Fijak at the Naval Station in Norfolk.
The builders and acceptance trials both went very well. Before you knew it, the ship was ready for delivery. We sailed from Avondale on 14 October 1974. The ship was operated by the shipyard's crew during the trip to Norfolk. In order to keep crew costs down by minimizing underway time, the builder normally made the delivery trip at 25 knots. This had backfired on USS Blakely when the ship ran down a sailboat. Fortunately, we arrived at the Norfolk Naval Shipyard in Portsmouth, Virginia, without incident on 17 October where we would undergo a three-month fitting-out availability (FOA), the balance crew would be reporting, and the commissioning ceremony would be held in November. On arrival, the SUPSHIP representative gave me a Form DD 250 to sign. It was the receipt for material which was "One Destroyer Escort." It was all in my hands now. I still have the form posted on the wall in my home.
The commissioning ceremony was held on 2 November 1974 at a pier downstream from the Norfolk Naval Shipyard. There are some days in a person's life when everything goes wrong. But there are also days where everything goes right. This was one of these days.
The commissioning went beautifully. My boss, RADM Wentworth, read the Navy Department orders and declared us to be in commission at which point we hoisted the ensign, jack, and commissioning pennant, I read my orders and assumed command of the ship. The crew then went aboard. Senator Buckley gave his speech. I then turned the podium over to the ship's sponsor, Gertrude Moinester, and she made a very nice speech in which she declared that she considered herself to be "the mother of the ship." The ceremony had to be considered successful in all respects and everyone enjoyed themselves very much. It had been an absolutely great day and it symbolized for me personally the motto found on our ship's crest (designed by the wife of one of my FIT Team members) "The Sea is My Life."
Prior to getting underway for the first time, it was necessary to take certain ship handling characteristics peculiar to the
Knox
-class ships into account. A very valuable resource was a book entitled
Ship Handling the DE 1052 Class
. It was written by Cdr. S.D. Landersman, the commissioning commanding officer of USS
Hepburn
(DE 1055), under whom I had served as a department head aboard USS
England
(DLG 22) when he was the XO. Some of the significant issues that had to be addressed included:
The ships had large, 26-ton bow mounted sonar domes that were 20 ft. in diameter and protruded out laterally and ahead of the stem of the ship. It was absolutely vital that these not be dented or scraped in any manner, particularly in later years when these domes were back-fitted with acoustically transparent rubber "windows" that made the domes even more "tender".
Each ship had only a single screw and rudder. While they responded well to ahead bells because of the propeller discharge against the rudder, they had very poor response to astern bells and the stern would invariably fall off to port.
For the above reasons port side landings and starboard side landings had to be approached very differently.
The ships had an unusual anchor configuration. They had an 8000 lb. "keel anchor" that dropped unseen from the centerline keel behind the sonar dome. There was also a 4000 lb. "lightweight Danforth style anchor" that was mounted near the bow on the port side of the main deck forecastle.
Because the sonar dome was leading the way anywhere the ship transited, increasing the navigational draft of the ship to at least 25 feet. I always required that any channel we passed through had a minimum depth of water of 30 feet.
The most significant decision that had to be made when entering or leaving port was what use to make of the tugs. That all depended totally upon the circumstances. In general, it was necessary to use pilot and tugs whenever we were unfamiliar with the port and in the case of our home port of Norfolk, there were cross currents in the Elizabeth River. In Norfolk, we normally landed bow out and starboard side to while making use of a docking pilot and one or two tugs. We found it useful to drop the port bow anchor on the way into the pier.  This allowed us to get underway without assistance by using the anchor to pull the bow out from the pier.                                                                                                                                                                                                                                                             Our first underway period took place in January 1975. After a few days of around the clock steaming pier side in order to get the "feel of the ship" we proceeded up the York River to the Naval Weapons Station at Yorktown, VA for our initial weapons loadout. The evolution went quite smoothly. From there, it was off for a very intensive two-month period that included a Weapons System Accuracy Test (WSAT) at Port Everglades, Fla, shakedown training at the American Naval Base at Guantanamo Bay, Cuba (GTMO), naval gunfire support qualification at Vieques, and a port visit to Port Au Prince, Haiti. Our shakedown training included a wide variety of exercises. We found that we could we could accomplish most of our daily getting underway and landing evolutions which were mostly starboard side to, with assistance from a pusher boat without needing a pilot or tugs.
Our most memorable experience during this period occurred when we were conducting gunnery exercises with an aircraft towing a target far behind it on a wire. We were heading due east off the south coast of Cuba. All live firing was to be to the south away from the island.  After the "cease fire" call at the end of one firing run, the MK 68 gun director officer stated that he had a round still loaded in the gun barrel. This was a fairly common occurrence in the rapid fire, automatically loaded guns, and he requested permission to clear the barrel by firing through the muzzle in a safe direction. However as was standard routine up to that point at GTMO, the director continued to track the aircraft to the north on its way home. When I gave permission to fire that one round, the gun suddenly swung around to the north to align with the director and launched a 5" shell in the general direction of the Cuban mainland. My officer of the deck reported a splash in the water well short of land and I breathed a sigh of relief. I then proceeded to go stark raving mad and began screaming at the director officer and the weapons officer (then LT Charles T. Creekman). It turned out that the gunners mate in the gun mount had closed a switch that caused the gun to align with the director before firing the gun, the normal process when firing at a target but NOT when clearing the barrel!  Fortunately, no harm had been done and I calmed down. GTMO changed the exercise procedures for future such firing exercises.
We finished our Operational Readiness Examination at the end of Shakedown Training with an overall grade of 91 out of 100: an "excellent" rating which aptly described our first sustained operational period. We returned home in late March 1975. In April we passed our first Operational Propulsion Plant Examination (OPPE).
In May 1975, we entered the Norfolk Naval Shipyard for a three-month post-shakedown availability (PSA). On completion of PSA, the major event was the installation of the AN/SQR 18 Tactical Towed Array System (TACTAS). This gave us a passive sonar capability by way of a long cable fitted with numerous hydrophones and attached to our SQR 35 variable depth sonar towed body or "fish" – which permitted us to stream the array up to 600 feet deep for best acoustic performance. The towed array's purpose was to detect submarines at long ranges by listening for the broadband and discrete tonal frequencies emitted by the submarines propulsion system.
In August we formed a new anti-submarine warfare (ASW) squadron (DESRON 10) with the following members:
USS Moinester (FF1097) – Flagship – With TACTAS and helo
USS Connole (FF 1056) – with TACTAS and helo
USS Voge (FF 1047)- with ASW Tactical Data System (ASWTDS) and helo
USS Koelsch (FF 1049) – with ASWTDS and helo
USS McCloy (FF 1038) – with SQR 15 TASS (towed array sonar system), a critical angle towed array, much longer than our TACTAS but not as easily maneuverable as our array.
Each ship, with the exception of McCloy, was fitted with a LAMPS Mk. 1 Seasprite (SH-2) helicopter along with an appropriate aviation support detachment. The helicopters were an essential part of the ASW team. On occasion, we conducted ASW exercises in company with a P-3 ASW aircraft and US submarines (SSN) in direct support.
From that point on in the succeeding months leading up to deployment, our primary function was the technical and operational evaluation of our new equipment and conduct of ASW exercises. Our first stop was at the Atlantic Undersea Test and Evaluation Center (AUTEC) range, which was located in the Bahamas. The tests went quite well and we were ready for more exercises.
When I entered the navy in 1956 a big concern was that the Soviets had developed submarines that could outrun our destroyers and destroyer escorts. It soon became obvious that this problem could be overcome through the use of passive sonar detection and tracking. If a submarine tried to go fast to evade, it would light up the ocean and our helicopter would easily keep up with it. At the time this was a significant development in ASW.
As we were now the flagship of the ASW Squadron we had to provide accommodations for our squadron commander, Captain Don Cannell, COMDESRON 10 and his staff. The next few months remained very busy as they included more ASW exercises, an operational evaluation (OPEVAL), a nuclear weapons acceptance inspection (NWAI), our second successful OPPE, naval gunfire support (NGFS) qualifications, and a variety of other activities as we completed a Caribbean exercise (CARIBBEX 2-76) as our final evolution before deployment .
In April 1976, the ASW Squadron deployed to the Mediterranean as a group where we would serve as a unit of the Sixth Fleet. After INCHOP at Rota, Spain we conducted another ASW exercise and then had our first tender availability in Naples, Italy in May. From there we proceeded to the Ionian Sea for more ASW exercises with the USS America carrier task group before mooring in June in Brindisi, Italy.
I was due for rotation in June. My relief, Commander Haig Alemian, arrived by helicopter and the change of command took place at sea on 23 June 1976 after which I was transferred ashore by helicopter. From there I went up to Rome, where I met my family for a tour of Europe.
CDR Alemian actually grew up in the next town to me in Massachusetts. He made a very good impression on everybody. Tragically, he was killed about a year later while still in command of Moinester during the ship's second deployment in a car crash outside Naples en route to a planning meeting for an upcoming exercise.
This concludes my personal experiences with USS Moinester. However, I still had plenty of connections to the Knox-class ships including the conduct of numerous inspections as a member of the Propulsion Examining Board between 1996 and 1999. When you added up the Knox-class ships that I had either served on or conducted inspections aboard it came out to 25 of the 46-ship class. I was very happy with the performance of all of the people I served with during that period.
In 1991, Moinester was re-designated as a training frigate (FFT) and assigned to reserve training duties in Norfolk. All of the Knox-class frigates were decommissioned between 1991 and 1994. Thirty of the ships were sold or transferred to foreign navies. Moinester is apparently still in service in the Egyptian navy as the frigate Rashid (F966) and USS Jesse Brown (FF 1089) is still serving as the frigate Domyat (F961). Both ships have been in service for over 40 years.
Note that Moinester was the last conventionally-powered combatant ship to enter service in the US Navy powered by oil-fired boilers and steam turbines. All subsequent surface combatants have been powered by gas turbines. The Knox-class frigates were succeeded by the 71 ships of the Oliver Hazard Perry (FFG 7)-class, the first of which entered service in 1977. All ships of this class have now been decommissioned, although 24 are still serving in foreign navies. We hope to follow this posting with one dealing with the Perry class ships.
Avondale shipyard has been closed since 2015 due to lack of business and it is listed for sale on the market.
As can be seen in the following illustration from a 1980s Navy Times feature, Moinester continued to be a leader in all phases of ASW development and was the recipient of numerous awards over the years.
---
George W. Stewart is a retired US Navy Captain. He is a 1956 graduate of the Massachusetts Maritime Academy. During his 30-year naval career, he held two ship commands and served a total of 8 years on naval material inspection boards, during which he conducted trials and inspections aboard over 200 naval vessels. Since his retirement from active naval service in 1986 he has been employed in the ship design industry where he has specialized in the development of concept designs of propulsion and powering systems, some of which have entered active service. He currently holds the title of Chief Marine Engineer at Marine Design Dynamics.