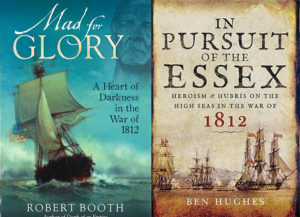 Reviewed by John Grady
David Porter remains one of the most fascinating personalities in the early American Navy.  His quickly written, often self-serving but surprisingly candid Journal about his wartime activities in the Pacific set a standard for naval writing that remains informative and clear. It was also highly popular at the time,  fanned by the second war with Great Britain and the administration of President James Madison's need for heroes to douse the secessionist movement in New England and obliterate the memory of Washington burning.
Porter introduced a generation of Americans to a world far removed from their frames of reference and, in a way, paved the way for Massachusetts-based whalers to dominate the trade in the years after the War of 1812. What he wrote about the islanders he encountered and the restive Chileans and their nascent revolt against Spain seems condescending now but was eye-opening than to Americans. He was appealing to the reading audience of his time — interested in what was novel in the natural [whales including an enormous white one, "turtle turning, etc."] and social [what houses looked like, work habits, sexual behavior, etc.] worlds.
Hughes and Booth, drawing heavily on Porter's writing — with their caveats about his image-polishing, foe-bashing — capture this very well.  Porter's two-volume Journal of a Cruise Made in the Pacific Ocean, by Captain David Porter in the United States Frigate Essex, in the Years, 1812, 1813, and 1814, available free online through Google books, remains a treasure trove for anyone interested in the Navy in the early Republic.   
Like the Royal Navy's Captain James Cook, whose journals of his voyages of exploration were treasured in Great Britain and hailed as part of the  enlightenment across Europe, Porter's encounters with the indigenous peoples, particularly in the Marquesas, are now seen in a far darker light, particularly in Booth's Mad for Glory. He became a god-like figure in that society.
After all, Porter brought Western-style continuous, technologically advanced [cannons, etc.] "hard" war to the islands. It was a lesson his senior lieutenant John Downes applied to pirates and their families in Sumatra many years later. That change meant the destruction of all of an enemy's crops and villages, not the hit-and-run raids of another tribe's livestock. Cook's "first contacts" and those by whalers and merchantmen seem mild by comparison.
His Civil War flag officer son, David Dixon Porter, in his Memoir, did his part in the late 19th century to ensure his father remained on a tall pedestal in the modern mind.
Hughes intended In Pursuit of the Essex for a more academically-inclined audience, but both books capture the rawness and daring of Porter to "wink" at his orders to fight in a small squadron in the South Atlantic.  Porter clearly had in mind a dash for glory in the faraway Pacific, even though he had never rounded Cape Horn and would have no support. Even before he left port, he had  "amongst his books and charts in the great cabin of George Anson's A Voyage Round the World and maps of the Galapagos Islands made by James Colnett in 1793." Anson was a senior admiral in the Royal Navy.
This reviewer found Hughes' work's greatest strength in his depiction of Captain James Hillyar of the Royal Navy who eventually cornered Porter and his small flotilla of captured British whalers off Valparaiso, Chile. "Although prone to bouts of temper and a believer in the benefits of the lash, as a committed Evangelical he forbade swearing and strict observation of the Sabbath was part of the Phoebe's unbending  routine."
Hughes' narrative is a side-by-side contrast between Hillyar's two-ship squadron and Porter's commerce-raiding and claiming territories for President James Madison. Hillyar was on a two-pronged mission — get rid of Porter and seize the American fur trading outpost Astoria on the Columbia River. He felt the pressure from the Admiralty, British diplomats and merchants abroad to succeed at both.
What happened after Porter's defeat off the Chilean coast to both men and their crews is a story in itself that Hughes captures well in the Epilogue.  Porter quickly received $30,000 in advance prize money to be divided among his officers and crews; the surviving officers were in line for promotion; he was hailed as a naval hero of the first rank and went on to fight the British invaders on land in their attack on Washington and Baltimore.
Hillyar was "made a companion of the Order of the Bath in June 1815 along with 500 other navy and army officers, no official celebrations were held."  As for prize money, the Admiralty moved with glacial speed. It was a ho-hum matter to Whitehall and Greenwich.
Booth wrote Mad for Glory for a general audience. It is fast-paced, as almost any book about Porter, must be.
What this reviewer found particularly interesting was his depiction of Joel Poinsett, one of the wandering envoys, scientists, spies, that Presidents Thomas Jefferson and Madison turned loose on South America than in a state of chaos, sometimes rebellion. The Napoleonic wars ravaged the Iberian Peninsula, Madrid's control of affairs from trading to defense an ocean away in the case of Argentina and even further away in the cases of Chile and Peru wasn't slipping; it was shredding.
Poinsett, working on his own and without a word of communications between him and the Madison administration, decided to involve himself in the Chilean revolution — not as a civilian bystander or even an abettor but as an active participant.
"So well did he do his work [in Argentina in this reference], so thoroughly did he compromise relations between the junto [the de facto rulers of Buenos Aires and its surroundings] and the British that the name of Poinsett was known and reviled in London, as well as Madrid and Rio de Janeiro."  By the time, he was through in Chile, across the Andes from Argentina, Lima and Santiago were places where his name "was known and reviled" by Royalists and some revolutionaries.
Booth deftly describes the ins and outs of the political, social and military turbulence that rocked Chile from the months before Porter arrived off its coast to the immediate years following and how this related to the coming showdown between the Royal and the United States navies that Porter would lose.
As a footnote to the times Booth describes, Poinsett's role in American naval history stretches across another 20 years or so.  Because the cliques in the Navy battled each other for years over how to conduct a scientific and naval exploration of the Antarctic and the Pacific Coast and secretaries dithered, President Martin Van Buren to a man he could trust to get the exploration under way.  As Secretary of War under Van Buren, he named Lieutenant Charles Wilkes to command the Great South Seas Exploring Expedition, the Navy's first truly comprehensive scientific and naval expedition in the manner of Cook's.
Booth and Hughes are the two latest authors to work in a 21st century Porter Renaissance. For example, David Long's Nothing Too Daring, a Biography of David Porter was reissued by the Naval Institute Press in 2014, and George Daughan's  The Shining Sea: David Porter and the Epic Voyage of the U.S.S. Essex was published a year earlier.
There likely will be more.
Porter remains a fascinating personality — his American career and exploits in the Mediterranean and Pacific, as head of the Mexican navy and in the employ of the Ottomans — will continue to attract new biographers and historians.
More will follow Booth and Hughes.
To Purchase Mad for Glory:

To Purchase In Pursuit of the Essex:

John Grady is the author of Matthew Fontaine Maury, Father of Oceanography: A Biography, 1806-1873. He has contributed to Naval History, the Civil War Monitor's Front Line series, the New York Times Disunion series and the Naval History and Heritage Command's Sesquicentennial blog on the Civil War.