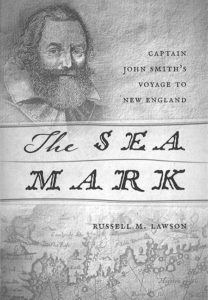 By Russel M. Lawson, University Press of New England, Lebanon (2015)
Reviewed by Warren Riess, Ph.D.
This book has the feel of two different works. One is John Smith in the last two decades of his life. The other is a detailed description of his 1614 voyage to North America. Lawson works the two together, the latter sandwiched within the first, but in two distinct styles. It works and will be an interesting read for people wanting to know more about John Smith and those wanting some interesting history about the coast of the Gulf of Maine.
In the first two chapters, Lawson presents general and specific background material leading to Smith's 1614 voyage to Monhegan Island. The next seven chapters are a detailed narration of Smith's journey along the coast, from what is now called Penobscot Bay to Cape Cod—exploring, mapping, and recording information about the people, flora, and fauna he found along the way. In the final three chapters, Lawson relates and comments about Smith's many trials during his last fifteen years to begin a colony in what he named New England and recorded his life in various publications.
For a historian, Lawson's contribution is his analysis of Smith's personality based on Smith's writing and milieu. Lawson presents sound reasoning for Smith's decisions and attitudes. These are both found in the first and last sections of the book. Some of that has been written before, but not presented this way with Lawson's understanding. In the rest of the book, there is not much new for someone well-read in Elizabethan English or Maritime History. Many publications include Smith and his contemporaries' historical works.
People cruising the Gulf of Maine coast should be quite interested in this book. Lawson takes the reader on Smith's explorations of the bays, rivers, capes, and coves from the Penobscot to Cape Cod. About each place, he combines what Smith wrote with a little information from other sources so that modern visitors will appreciate more the history and geography of each location.
There is not much in the book for people interested in naval history unless they are also cruising the coast of northern New England.
My only problems with the book are with the author's style (always just a matter of opinion), choice of illustrations, and a few controversial maritime aspects.
Lawson uses more than a hundred quotes from Smith's works interlaced with the author's narrative; retaining the original spelling, etc.  As a reader, even one who knows the material, I found this annoyingly distracting.
Similarly, when following Smith's explorations the author most often included information about each spot before and after Smith was there. That included various names for each place. When writing about a place in his narrative, Lawson sometimes used the Indian, at times Smith's, and sometimes the modern name. It was a bit confusing, even for someone who has lived and worked along this same coast for decades, because some of Smith's place names are now other locations along the coast.
Most of the illustrations are good, but many NOAA charts are complete modern charts reduced to 5 x 6 ½ inches. One cannot read the text on them, see which island or river is which, and there are no additional arrows or circles to help the reader. They are mostly unhelpful to the book.
With so much factual material it is impossible to get everything perfect, and I do not like to knit-pick, but reviewers need to point out problems and questions that were obvious to them. The author may be correct with these, from sources unknown to me, but I do question them:
Smith wrote in A Description of New England that the craft he used to navigate the coast was "a small boat." Lawson mostly referred to Smith's exploration vessel as a shallop, twice as "ship" and sometimes "small shallop." A shallop was a large, heavy open boat. It wasn't a small boat or ship. Smith was a prolific writer in the 1620s and may have used the term shallop when retelling the story in his later years. However, he well knew the difference and used "a small boat" in his first rendition.
As far as I know, the Norse in North America used knarrer (knarrs), which were oceanic merchantman not, as the author relates, their Viking raiding ships. Related to this, Smith's encountering Indians sailing a Basque shallop was not evidence that the Basques had been that far south. Bourque and Whitehead have made convincing arguments that these were eastern "Tarrentine" Indian middlemen, merchants if you will, who traded along the coast between the Europeans who came in the summers to the Gulf of St. Lawrence and the tribes along the shores of the Gulf of Maine.*
At the end of chapter three the author attempts to explain Smith's quote about his summer exploration "by an hour glasse of three months" as Smith's describing his method, in the small boat, of determining where he was along the coast. I found it an unconvincing explanation. I read Smith's quote as his way of writing something like, "in exactly three months."
Whether or not these questions are faults, they are minuscule parts of the book. Lawson has created a useful addition to the literature of John Smith. I do recommend the book to anyone who is cruising the coast of northern New England and to any person who already has read some of John Smith's published works or some of the standard works on Smith.

*Bourque. B. J. and R H. Whitehead, 1985, Tarrentines and the Introduction of European Trade Goods in the Gulf of Maine, Ethnohistory 32.327-341.