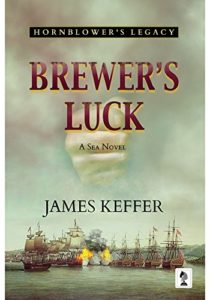 By James Keffer, Penmore Press, Tucson, AZ (2015)
Reviewed by Rick Elkin
When reading fiction, I tend to enjoy science fiction more than any genre. My taste in maritime and naval books tends to lean heavily toward non-fiction books. I enjoy "real" history. That said, I remember as a young boy watching "Horatio Hornblower" with Gregory Peck and found it to be a great action movie/novel.
I began to read Brewers Luck and quickly enjoyed the story, which takes place in 1821 after the War of 1812, during a time when the American and British navies were just beginning to work in unison and trust one another. The main character is Lieutenant William Brewer, who has just come aboard the Royal Navy frigate HMS Defiant as her First Lieutenant. He came aboard after being stationed as Lord Admiral Hornblower's Aide while he was the Governor of St. Helena during the imprisonment of Napoleon Bonaparte.
Defiant is reassigned to the Caribbean Squadron now under the command of Admiral Hornblower, and Brewer and crew sail across the Atlantic and work their way south from Newfoundland to the Caribbean where they are to fight pirates who are mostly AWOL from the French Navy. Along the way, Brewer meets some familiar early Americans and interacts at sea with USS Constitution and  USS Enterprise. The unexpected meetings with famous persons from "Real life" does much to hold the story together and keep the reader eager to see who else might turn up in the "novel."
This is the second book in the "Hornblower Legacy" by James Keffer. He does a great job keeping my interest in the characters and the basic story of how they ran ships of the Royal Navy back in the early 19th century. If you're interested in a good read that has some famous names entwined in the story, "Brewers Luck" may just be what you are looking for.

When not reading history books, Rick Elkin deals with historic cars at P.J.s Auto World in Clearwater, FL.