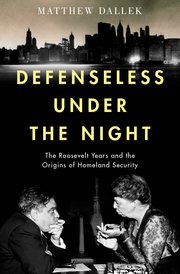 By Matthew Dallek, Oxford, New York, NY (2016)
Reviewed by Capt. Jourden Travis Moger, CHC, USN
Matthew Dallek tells the fascinating story of the rise and fall of the Office of Civilian Defense (OCD), America's first federal office of homeland security. FDR created the OCD less than six months before the Japanese attacked Pearl Harbor. Drawing from a broad range of primary and secondary sources, Dallek, Assistant Professor of Political Management at George Washington University, focuses his attention on the personalities at the top of the OCD as well as the politics surrounding its creation and development.
The energetic and bombastic New York City Mayor Fiorello La Guardia served as the first OCD director while maintaining his office in city hall. His assistant director was First Lady Eleanor Roosevelt, who clashed with La Guardia over priorities for the new agency. She favored "social defense liberalism," a guns-and-butter approach in which making the country a better place to live would be as much a priority as protecting it. Social defense included promoting healthy lifestyles, planting victory gardens, establishing child care for working mothers, and fostering racial and gender equality. La Guardia believed (and after the attack on Pearl Harbor most Americans agreed) that social programs had to take a back seat to military preparation. Despite the power struggle at the top, the OCD recruited millions of Americans to volunteer in various civil defense roles.
After Pearl Harbor, La Guardia became a national scapegoat and within a few months was replaced by Harvard Law School Dean James Landis. Landis would continue La Guardia's "national security liberalism," which sought to militarize the civilian population to defend against enemy attacks. Soon after he took charge of the OCD, a scandal involving allegations of Eleanor Roosevelt's cronyism and misplaced priorities forced her to resign her position.
Arguably the most successful OCD contribution to homeland security was La Guardia's creation of the Civil Air Patrol (CAP) only a week before the bombing of Pearl Harbor. Some 30,000 volunteer pilots "located enemy submarines off the coasts and guided bombers so they could hit their targets" (p. 237). CAP was seen as so critical to national defense that the War Department took control of it, removing it from the OCD.
Dallek thoroughly explains how national leaders, including those at OCD, used fear to motivate Americans to prepare for war; however, he vacillates between criticizing scare tactics as wartime propaganda and rationalizing them as justifiable in light of the circumstances and available information. Americans tired of hyped prophecies of doom, especially as wartime successes made another attack on the homeland less likely. Dallek also seems to tire as he comes to this point in his narrative. He devotes only five and a half pages to the period 1943-45, half the life of the OCD. This uneven approach is excusable since the book is not an institutional history of the OCD. Other problems in the book include some repetition and an occasional minor factual error, including this mathematical mistake: "[. . . ] the typical Army soldier earned $21 a week, or $252 a year [. . .]" (p. 213).
The author unfortunately misses an opportunity to place the OCD more thoroughly in a broader historical context. He rightly applauds British civil defense, which provided the model for the OCD, but neglects the fact that while under increasingly destructive aerial bombardment, Nazi Germany developed during World War II what was arguably the most highly organized and effective civil defense force in the history of modern warfare. Dallek mentions the German program only once and in a pre-war context (p. 44).
Despite these shortcomings, the strengths of Dallek's study far outweigh its weaknesses. Defenseless Under the Night will appeal to those interested in the World War II home front, civilian defense, or the FDR administration.

Chaplain Moger also holds a Ph.D. in history from the University of California at Santa Barbara and has taught history at the Naval Academy.