The Naval Historical Foundation is gearing up for our annual meeting on Saturday, 3 June. This year's focus will be the 75th Anniversary of the Battle of Midway. Our guest speaker this year will be Dr. Timothy Orr, co-author of Never Call Me a Hero: A Legendary American Dive-Bomber Pilot Remembers the Battle of Midway. Never Call Me a Hero focuses on the harrowing and heroic experiences of Captain Dusty Kleiss of Scouting Squadron Six (VS-6) during the battle. Dr. Orr co-authored and edited the book with his wife, Hampton Roads Naval Museum Deputy Education Director Laura Orr. I was fortunate to talk briefly with Laura about their book, available online and in stores today.
NHF: Thanks for taking time out of your busy schedule to speak with NHF today, Laura. How did this project which would culminate with Never Call Me a Hero begin?
Orr: It started as an event for the Hampton Roads Naval Museum back in 2011. At the time, I was the Special Events Coordinator and was looking for a WWII veteran to speak at an event. Tim mentioned Dusty, who he saw on a television program on the History Channel about the Battle of Midway and his ship, USS Enterprise. I quickly contacted him, and he agreed to come to Norfolk. Before he got out here, however, he got pneumonia and had to back out.
NHF: So he had to back out of the event. But conversations continued?
Orr: Yes. He eventually got better, and we ended up having conversations on the phone. Soon, we became good friends. After a while, it came to a point to talk to him about doing the book.
NHF: Did he want to do the book? How did he take the news?
Orr: It's quite funny. His response to the book was, "why would anyone want to read a book about me?" I convinced him that they would, and Tim and I started visiting with him to conduct interviews, etc.
NHF: How long did this occur?
Orr: We worked with him for about five years before he passed away last year.
NHF: What was the most rewarding aspect of your experience working and learning from Dusty?
Orr: I would say getting to know Dusty. He became like an adopted grandfather to us. The chance to spend time with him, hearing his story, and learning what he did during WWII. It was a great experience.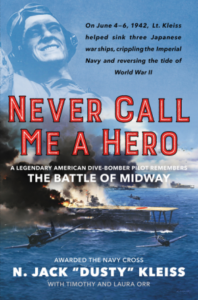 NHF: Incredible. You got to hear every aspect of his fascinating story first-hand. What moment from Dusty's life touched you the most?
Orr: His relationship with his wife, Jean. It wasn't always perfect, but truly beautiful. After Midway, they immediately got married in Las Vegas. I also think his remembrances of his friends lost at Midway had an influence on me. Bruno Gaido was captured, interrogated, and eventually killed by the Japanese. Tom Eversole, his best friend in Torpedo Six, died during the battle. It always stuck with Dusty.
NHF: Anything to add?
Orr: It was an honor to work with Dusty. He'd never call himself a hero (thus the title), but we thought of him as a hero every day we worked on that book. He sacrificed a lot for his country, although he'd only consider himself a "hero" if he gave his life. I think that there's more than that, and his actions show it.
NHF: We look forward to hearing more about Dusty on 3 June.
Orr: Thank you.
---
Never Call Me a Hero is available online at Amazon. Purchase it here, and proceeds from your purchase will directly benefit the Foundation.

Members can RSVP to the Annual Meeting HERE.

By Matthew T. Eng