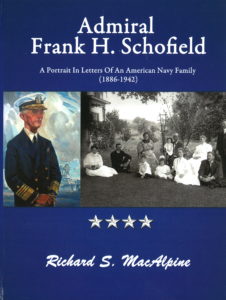 By Richard S. MacAlpine, Infinity Press (2016)
Reviewed by Charles H. Bogart
This amazing book allows the reader to enter the heart and soul of Frank H. Schofield who entered the Naval Academy in 1886 and retired in 1933 as Commander of the U.S. Navy's Battle Fleet. Admiral Schofield saw service during the Spanish-American War as XO of USS Hawk (PY 2). During World War I, he was assigned to the staff of Vice Admiral Sims and spent the war in London, England. Postwar saw him in Paris, France, as part of the United States Naval Advisory Staff to the Versailles Peace Commission. In 1919, he took command of USS Texas (BB 35). After that, he served on the Navy's General Board, commanded a destroyer squadron, headed the Navy's War Plans Division, was part of the United States Naval Advisory Staff at the 1927 Geneva Naval Conference, commanded Battleship Division 4, and served as Commander Battle Fleet.
Using his letters, records, photos, news clippings, oral histories, and contemporary written documents, the author, has crafted a book that provides a fascinating look at the period during which the U.S. Navy progresses from being an insignificant naval force to the position of becoming the world's dominant naval force. The heart of the book is based on some 12,000 letters written by the Admiral, family members, and friends. Since these letters were not meant for publication, we see an unfiltered insight into the thoughts of the Admiral and his family. These insights cover not only the Navy but internal family affairs and thoughts on events taking place outside of the family. We thus find out that the Admiral, while in Los Angeles, was too busy to accept a dinner invitation from Mary Pickford and Douglas Fairbanks.
Within the letters the admiral writes home, the reader discovers fascinating vignettes of life in the Navy. We see many interesting stories such as the 1889 ground of USS Constellation off of Cape Henry, service at sea during the Spanish-American War), being bombed by German Aircraft in 1918 while serving in London, and mixing with various delegates at the 1919 Paris Peace Conference. Unfortunately for the reader, very few letters from either the Admiral or the family survived from the period after World War I, and the author is forced to rely on secondary sources to tell the remaining years of the admiral's life.
The author of this book has not only crafted an outstanding biographical account of Admiral Schofield but has also produced an excellent social history of the United States between 1886 and 1920 as seen through the eyes of Schofield, his parents, wife, sisters, brothers, and friends. Both naval and social historians will mine this book over the coming years to gather quotes from to support their various thesis.

Charles H. Bogart is a frequent contributor to Naval History Book Reviews.