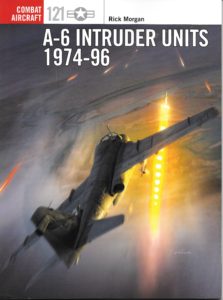 By Rick Morgan, Osprey Publishing, Ltd. Oxford, UK (2017)
Reviewed by Cdr. Peter Mersky, USNR (Ret.)
A sequel to the author's earlier Combat Aircraft No. 93 covering the Intruder's Vietnam service, this new book describes the A-6's new, often little-known history after Southeast Asia with insider knowledge and style. His introduction is one of the best I have seen in more than 20 years of reading the many books Osprey has published. Those of us who have served in the Navy or Marine Corps will appreciate his praising the roles of the individual yet vital groups of the squadrons and of each member's family, all of whom render such important support.
The book begins with an excellent account of immediate post-ceasefire action over Cambodia, then moves to the somewhat mysterious 1-3-day bursts in the 1980s as we learned of the new threats in the Persian Gulf that still required the potent reply of the medium-attack community leading up to Desert Storm in 1991.
Desert Storm and the rout of Saddam from Kuwait was the final major campaign for Grumman's veteran carrier bomber, and it performed in fine style. The retiring of one of the Navy's most important aircraft, mainly because of its aging airframe that prohibited its crews being able to fly it to the edge of its operational envelope, typically caused much anguish in its loyal community. The planned replacement, the futuristic A-12, ran into terrible problems (mainly political), leaving the Navy without a medium carrier bomber. This resulted in the creation of an all F/A-18 air wing that, while certainly capable, did not have the range of the Intruder so vital when launching from a sea base often hundreds of miles from its targets.
The Marine Corps also used the A-6 for a long time, and the U.S. Naval Reserve flew the A-6 and EA-6A, albeit for a short period. The EA-6A Intruder ECM platform was also part of the Marine Corps Order of Battle, all before the introduction of the four-place EA-6B Prowler, which has only recently left active and reserve service.
All this final story is in Rick Morgan's excellent new book on the A-6 after Vietnam, which ends with a helpful discussion of the many stores the Intruder was capable of carrying during its long and very productive career. Jim Laurier's profiles and Gareth Hector's cover painting are up to their usual high standards.

Cdr. Mersky is a frequent contributor to Naval History Book Reviews.