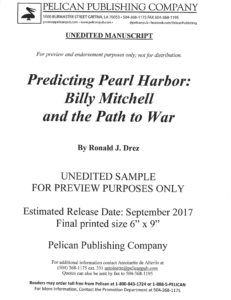 By Ronald J. Drez, Pelican Press, New York, NY (2017)
Reviewed by Charles C. Kolb, Ph.D.
In my assessment of Attack on Pearl Harbor: Strategy, Combat, Myths, Deceptions (Alan D. Zimm, Philadelphia and Oxford: Casemate Publishers, 2014), I pointed out that "WorldCat (an international library catalog) listed 18,353 publications and other media on the Japanese attack on Pearl Harbor." I added:
"Among these, there are 6,903 catalog records for the actual attack on Pearl Harbor which includes 3,105 books, 1,293 videos/CDs/DVDs, 644 articles, and 134 theses and dissertations. The less comprehensive Library of Congress catalog has 1,247 cataloged items on Pearl Harbor, of which 590 concern the attack. It appears that more than 200 articles and books on this subject are published each year."
With the 75th anniversary of the attack celebrated last December, there was an upsurge in these numbers, confirming that researchers continue to mine older and newer sources on the subject and delve into related topics. Some of these accounts have been published by a highly-regarded university or commercial press, a lesser-known press, and smaller printing companies. Among the most recent academic press volumes are: Geoffrey M. White, Memorializing Pearl Harbor: Unfinished Histories and the Work of Remembrance (Durham and London: Duke University Press, 2016); Saburō Kurusu, J. Garry Clifford, and Masako R. Okura, The Desperate Diplomat: Saburo Kurusu's Memoir of the Weeks before Pearl Harbor (Columbia, MO: University of Missouri Press, 2016); and James P. Delgado and Hans Van Tilburg, The Lost Submarines of Pearl Harbor: The Rediscovery and Archaeology of Japan's Top-secret Midget Submarines of World War II (College Station: Texas A & M University Press, 2016). Volumes by commercial publishers include Tessa Link, Susan Elkin, and John W. Dower, Pearl Harbor: 75 Years Later: A Day of Infamy and Its Legacy (New York: Liberty Street, an imprint of Time Inc. Books, 2016); Steve Twomeym Countdown to Pearl Harbor: The Twelve Days to the Attack (New York: Simon & Schuster, 2017); and Craig Nelson, Pearl Harbor: From Infamy to Greatness (New York: Scribner, 2016).  Less well-known publishers contributed Brian Curtis, Fields of Battle: Pearl Harbor, The Rose Bowl, and the Boys Who Went to War (New York: Flatiron Books, 2016); and Syd Jones, Before and Beyond the Niihau Zero: The Unlikely Drama of Hawaii's Forbidden Island Prior to, During & After the Pearl Harbor Attack (Merritt Island, FL: Signum Ops, 2014).  Lastly, memoirs by individual Pearl Harbor survivors or their descendants are continuously printed, often by small and vanity presses or self-published sometimes without International Standard Book Number (ISBN), a unique numeric book identifier (formerly 10 and now 13 digits).
Over the past two decades, Ronald J. Drez, the author of Predicting Pearl Harbor, has written a dozen books on diverse historical topics such as D-Day. The genres include biographies, personal narratives, oral histories, juvenile works, and basic military histories. He is affiliated with the Eisenhower Center, University of New Orleans, and has led tours to military sites in the Pacific theater since 2003.
Drez's latest volume focuses on William "Billy" Mitchell (December 29, 1879 – February 19, 1936), a United States Army general regarded as the "father of the United States Air Force."  Pelican Publishing Co. of Gretna, LA, provided an "unedited manuscript" for my assessment. The work is scheduled for publication in September 2017.  Hence, I will not comment on the need for copy editing (grammar, typographical errors, and inconsistencies and lack of complete citations).  Examples of the latter include citations to articles in Aviation magazine, Liberty, and newspaper accounts (Washington Post and Star) that lack author attributions and pagination.  Briefly, Mitchell served in France during World War I, ultimately commanding all American combat units there by 1918 and afterward was appointed deputy director of the Air Service where he advocated the value of air power, notably the ability of aircraft to sink battleships using aerial bombs which he demonstrated vividly in 1921. He organized a series of bombing runs against anchored ships designed to test this premise and antagonized many Army military and civilian administrators with his arguments and criticisms, testifying before Congressional committees at least 27 times. By 1925, he was demoted from the rank of brigadier general to the permanent rank of colonel and court-martialed for insubordination for accusing military leaders of "incompetency, criminal negligence, and almost treasonable administration by the War and Navy departments" (from an interview of Mitchell published in The New York Times, September 7, 1925).  Congress created the Army Air Corps on July 2, 1926.  Mitchell received numerous posthumous honors including an appointment to the rank of major general by President Franklin D. Roosevelt.
The book begins with a statement that the author's interest in the topic stemmed from viewing the 1955 motion picture "The Court Martial of Billy Mitchell, starring Gary Cooper. His interest in writing about it dates to 2003.  Drez also comments on the difficulty in accessing Mitchell's "long-suppressed" inspection report from his 1923-1924 Pacific tour, and the unique status of Niihau (usually written Ni'ihau), the westernmost island in the Hawaiian archipelago purchased by Elizabeth Sinclair in 1864 for $10,000 from the Kingdom of Hawaii; her private ownership passed on to her descendants, the Robinson family.
Drez devotes a useful chapter to two military strategists who prophesized a conflict between the Empire of Japan and the United States. Homer Lea (November 17, 1876 – November 1, 1912) an American adventurer and strategist who examined American military defense and predicted a war between Japan and America in his book The Valor of Ignorance, with Specially Prepared Maps (New York and London: Harper & Brothers, 1909, 1942; edition in Japanese, Tōkyō: Hakubunkan, 1911). His controversial publication, popular among America and Japanese military strategists, included maps of a hypothetical Japanese invasion of California and the Philippines. Reader's interest in these issues should read the still-in-print original (Safety Harbor, FL: Simon Publications, 2001; n.p. Nabu Press, 2010) and consult Lea's If America Fights with Japan: The Pacific War Foretold Thirty-three Years Ago, Tokyo: Hokuseido Press, 1942. The most up-to-date analytical assessment is Lawrence H. Kaplan's Homer Lea: American Soldier of Fortune (Lexington, KY: University Press of Kentucky, 2010, derived from his 1986 dissertation). The chapter also considers Hector C. Bywater (October 21, 1884 – August 16 or 17, 1940) author of Sea Power in the Pacific: A Study of the American-Japanese Naval Problem, with Maps and a Chart (London: Constable, 1921) also still in print (Bedford, MA: Applewood Books, 2002).  Bywater describes a hypothetical naval war between Japan and the United States that influenced the actual naval strategies of both countries during World War II. The most recent assessment of Bywater's essay is William H. Honan's Visions of Infamy: The Untold Story of How Journalist Hector C. Bywater Devised the Plans that Led to Pearl Harbor (New York: St. Martin's Press, 1991). Kudos to Drez for reminding us about these two authors mostly overlooked by recent historians.
Chapters three through eleven provide a good overview of Mitchell's military career and subsequent court martial. Drez cites materials from Mitchell's own publications, particularly Winged Defense: The Development and Possibilities of Modern Air Power — Economic and Military (New York and London: G. P. Putnam's Sons, 1925; reprinted Tuscaloosa, AL: University of Alabama Press, 2009).  The "long-suppressed" Mitchell Report of Inspection of United States Possessions in the Pacific and Java, Singapore, India, Siam, China & Japan by Brigadier General Wm. Mitchell, Assistant Chief of Air Service, October 24, 1924, is accessible in the Air Corps Library Collection (RG 18). The author also mentions materials from collections at the Library of Congress: William Mitchell [1879-1936].  Archival materials also available but not cited by Drez includes William Mitchell [1879-1936] William (Billy) Mitchell Collection, 1917-1958 (Library Special Collections Branch 6A52. MS 14, USAF Academy, CO: US Air Force Academy, McDermott Library, 2.8 linear feet).  A collection of reports, correspondence and memoranda, photographs, maps, and microfilm pertaining to one of the most controversial figures in the history of the United States Air Force, William Lendrum Mitchell.
Significant material deals with Mitchell's fight for a separate air service and strategic bombardment after his return from World War I. The remainder of the collection relates to his various assignments and personal letters following his court martial." Brian McAllister Linn refers to Mitchell's report in Guardians of Empire: The U.S. Army and the Pacific, 1902-1940 (Chapel Hill: University of North Carolina Press, 1997).
In addition, Drez quotes materials from four significant secondary source biographies devoted to Mitchell:  Isaac Don Levine, Mitchell Pioneer of Air Power (Cleveland: World, 1943; New York, Duell, Sloan and Pearce, 1943; New York: Arno Press, 1972); Alfred F. Hurley, Billy Mitchell: Crusader for Air Power (New York: F. Watts, 1964; new ed., Bloomington and London: Indiana University Press, 1975); Burke Davis, The Billy Mitchell Affair (New York: Random House, 1967; Delanco, NJ : Notable Trials Library, 2003); and Douglas C. Waller, A Question of Loyalty: General Billy Mitchell and the Court Martial that Gripped the Nation (New York: HarperCollins, 2004).  In the eighth chapter, "Falling on His Sword," Drez relies on the US Army's official reporter Alexander H. Gault (1925), Colonel William Mitchell, Air Service: Trial by General Court Martial, Washington, D.C., October 28, 1925 (Secret and confidential correspondence of the Office of the Chief of Naval Operations and the Office of the Secretary of the Navy, 1919-1927. 29 folders, 4 microfilm reels, 1980.  National Archives Microfilm Publications, Microcopy 1140, Washington, DC: National Archives).  Both the 1924 Mitchell report (Report of Inspection of United States Possessions in the Pacific) and Gault's transcript (cited above) contain much additional valuable material related to Mitchell's career and the court martial that shed additional light on Mitchell, the slow pace of aviation development, and the political firestorm he ignited by accusing the Army and Navy high commands of treason and criminal negligence in matters of national defense. Both Waller and Drez capture much of the spectacular seven-week court martial that became a national obsession.
Chapters six and eleven provide a review the history of Niihau (Ni'ihau) Island in the Hawaiian archipelago and the "Niʻihau Incident" just after the attack on Pearl Harbor on December 7, 1941 when a Japanese Zero fighter pilot crashed-landed on the island hoping to rendezvous with a rescue submarine. The pilot escaped with the assistance of local Japanese residents, but was ultimately recaptured and killed. The incident is documented in Syd Jones, Before and Beyond the Niihau Zero: The Unlikely Drama of Hawaii's Forbidden Island Prior to, During & After the Pearl Harbor Attack (Merritt Island, FL: Signum Ops, 2014); and Dan King, The Last Zero Fighter: Firsthand Accounts from WWII Japanese Naval Pilots (Irvine, CA: Pacific Press, 2012; rev. ed., Rockwall, TX: Pacific Press, 2012). There are citations in Predicting Pearl Harbor to Minoru Genda, the planner of the Japanese carrier-based attack on Pearl Harbor, writing in The Pearl Harbor Papers: Inside the Japanese Plans (Donald M. Goldstein and Katherine V. Dillon, eds., Dulles, VA: Brassey's, 2000, paperback edition of the 1993 volume), which I reviewed in 1999 for H-NET/H-US-Japan (United States and Japanese History and Culture).  Drez provides valuable new material on the incident obtained personally in 2011 during several interviews with Keith Robinson, one of the two brothers who currently own the private island.
Lastly, there is no mention of the Battle of Taranto which took place on the night of 11-12 November 1940 between British naval forces, under Admiral Andrew Cunningham, and Italian naval forces, under Admiral Inigo Campioni. This was the first all-aircraft ship-to-ship naval attack in history, employing a small number of obsolescent Fairey Swordfish biplane torpedo bombers from the aircraft carrier HMS Illustrious (R87) in the Mediterranean Sea. The attack struck the battle fleet of the Italian Regia Marina at anchor in the harbor of Taranto using aerial torpedoes despite the shallow depth of the water. Japanese Naval officers including Lieutenant Commander Takeshi Naito, the assistant naval attaché to Berlin, came to Taranto to investigate the attack. There is some evidence that the Imperial Japanese Navy's staff carefully studied the Taranto raid during planning for the attack on Pearl Harbor because of the issues with a shallow harbor. The standard source for this engagement is Thomas P. Lowry and John W. G. Wellham's The Attack on Taranto: Blueprint for Pearl Harbor (Mechanicsburg, PA: Stackpole Books, 1995).  Comparisons can also be made to the writings of Homer Lea and Hector Bywater.
Predicting Pearl Harbor: Billy Mitchell and the Path to War adds to the ever-growing list of publications about the Japanese Pearl Harbor attack. Drez reminds us of the early predictions of Lea and Bywater and the quotations from the Robinson interviews are enlightening.

Dr. Kolb is an Independent Scholar (National Endowment for the Humanities, Retired)