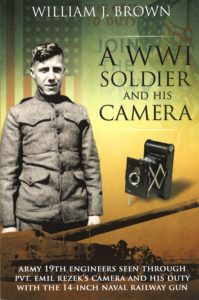 By William J. Brown. Self-Published (2017)
Reviewed by Charles H. Bogart
This book was written by the son-in-law of Emil Rezek who, in 1917 at the age of 18, joined the U.S. Navy. Not finding the Navy to his liking, Emil left his ship, changed into civilian clothes and joined the U.S. Army. In August 1917, as a soldier, he shipped out for France with the 19th Engineer Regiment. When Emil went to France, he took with him a Kodak Vest Pocket Camera that used black & white 127-roll film. The camera, when folded up, was only 2.5-inches by 4.75-inches and thus could fit in jacket pocket.
The 19th Engineer Regiment was a standard gauge railroad operating unit. Emil's assignment with the 19th was as a fireman on one of the regiment's Baldwin Locomotive Works 2-8-0 steam locomotive. The written content of the book consists of excerpts from Emil's diary and text added by his son-in-law to fill in gaps within the diary entries and provide captions for the photos. The heart of the book is the 58 photos Emil took while in France.
In August 1918, Emil's past caught up with him. He was arrested in France as a deserter from the U.S. Navy. Instead of imprisonment, Emil was loaned by the Army to the Navy as a fireman for one of the locomotives assigned to United States Naval Railway Battery No. 5, an operator of one of the rail mounted 14-inch naval guns brought to France. The chapter on the Navy's railguns in France is a disappointment. The book's text is but a summary of the material found in The United States Naval Railway Batteries in France and only two of the photos of these guns used for illustration are Emil's, the rest being from the U.S. Navy Museum's collection.
The 58 black and white photos are published in this book are all behind-the-front photos. However, the photos of the Baldwin Steam locomotives and the French railroad artillery pieces are a welcome addition to the photographic history of World War I. If railroads and railguns of World War I are your obsession, then this book is well worth its price for the 24 photos on these subjects found within the book.

Charles H. Bogart is a frequent contributor to Naval History Book Reviews.