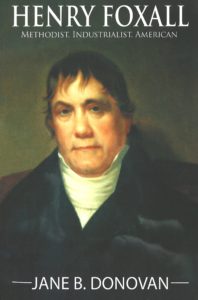 By Jane B. Donovan, New Room Books, Nashville, TN (2017)
Reviewed by Suzanne Geissler, Ph.D.
Henry Foxall (1758-1823) was a transplanted Englishman, a devout Methodist, and an industrialist who could rightly be considered America's first defense contractor.  This is the first biography of Foxall and is long overdue considering the significant role he played, not only in the growth of American Methodism, but in the development of the new nation's defense industry.  Methodist scholar Jane B. Donovan who teaches religious studies at West Virginia University has thoroughly mined primary and secondary sources, both in the US and the UK, to produce this fine biography.
Methodism began in the mid-eighteenth century as a movement within the Church of England under the leadership of Anglican priest John Wesley.  While it did occasionally penetrate into the upper levels of society, its main adherents were the poor and the working class.  However, Methodism required a strict lifestyle and encouraged such virtues as sobriety, thrift, and hard work.  Almost inevitably the practice of these virtues led to improvements in the financial conditions of its followers.  In an amazingly short period, essentially one generation, many Methodists had in fact entered the middle class.  Church historian Donald Dayton uses the word embourgeoisement to describe this process, and Donovan borrows it to explain the rise of Henry Foxall.  The particular business in which Foxall excelled was the manufacture of iron products for the US Navy.
Foxall was born in Wales.  His father had gone there to find work but soon returned to England.  The family became Methodist through their friendship with the Asbury family (Francis Asbury, with whom Foxall had a lifelong friendship, went on to become the driving force of American Methodism.)  Henry's father was an ironworker, and Henry followed him into that profession.  He worked as an apprentice at Funtley Forge located near the main British naval base at Portsmouth.  While there he learned not only the technical aspects of iron production, but also the business of supplying parts to the government.  This aspect of naval warfare may often be overlooked, but as Donovan tells us, "50 percent of the cost of a new man-of-war was the price of its iron parts" (p. 11).  Foxall then went to Ireland in the late 1780s to work at the Arigna Iron Works.
In 1795 Foxall, now with a wife and children, made the daring decision to come to America – daring because it had recently been made a crime for a skilled artisan to take his knowledge of industrial technology to another country.  In fact, it was a treasonable offense.  Foxall and his family had to literally sneak out of Ireland, probably having to bribe the ship's captain.
The family settled in Philadelphia where Foxall, with the backing of financier Robert Morris, soon set up his furnace and foundry known as Eagle Works.  Because of diplomatic issues that required some show of naval force, and the fact that a new US Navy had to be created from scratch, Foxall soon became the country's first defense contractor.  The war against the Barbary Powers and the Quasi-War with France both showed the need for a strong navy, and there could be no strong navy without a reliable domestic supplier of cannons and cannon balls.  Foxall met that need and it made him a rich and powerful man.
In 1800 Foxall expanded his operation to the new capital of Washington, DC.  He built a foundry (Columbia Works) near the new Navy Yard and continued to do business with the government.  He was said by a contemporary to have made "very considerable improvement in the art of making ordnance" and was "acknowledged by the best judges to understand that business better than any man in America" (p. 105).  His contributions were crucial to American success in the War of 1812.  The war also put him in personal danger since, even though he was a naturalized American citizen, the British government considered him a traitor and, if captured, would have faced a treason trial in England.  British forces did target his foundry, but a thunderstorm scuttled their attack.
In his later years, Foxall became mayor of Georgetown (then a separate city from DC and still located within Maryland).  He continued his many activities in the Methodist Church.  He had been a lay preacher for years but was finally ordained an elder in 1814, the same year he retired and sold his foundries.
This book is well written and well researched.  Indeed, the author seems to have located every conceivable source relating to Foxall.  It is highly recommended to those who are interested in the technical and financial aspects of outfitting the early US Navy.

 Suzanne Geissler is Professor of History at William Paterson University in Wayne, NJ.