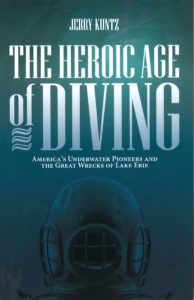 By Jerry Kuntz, State University of New York, Albany, NY (2016)
Reviewed by Charles H. Bogart
Readers of this book encounter the fascinating story of the development of hard hat diving in the United States between the years 1820 and 1880. This period saw hard hat diving develop from being a scientific curiosity to one of the working elements employed to salvage a sunken ship, recover articles lost overboard, or find sunken treasure. The author tells his story through the lives of six divers: John B. Green, Elliot P. Harrington, Martin Quigley, James A. Whipple, Charles B. Pratt and John Tope, and the nine capitalists who saw hard hat diving to recover real and imaginary treasures from the floor of the sea.
The story centers around activities along the American shore of Lake Erie to recover various steamers lost in accidents. The author records how, through trial and error, the engineers who designed the hard hat diving equipment and the divers who used it overcame the limitations of their early hard hat equipment so that they could dive deeper and stay down longer. The advances made during the 19th century in the hard hat divers' equipment were at the cost of dead and crippled divers. One boat whose name appears throughout the book is the packet boat Erie, lost in a fire on 9 August 1841, who defeated all attempts to salvage her.
While the author focuses his story on the salvage work performed by hard hat divers in the waters of Lake Erie, he also carries his accounts to other waters. These include the demolition of Pot Rock in New York's Hell Gate Channel, the search for the gold-containing strongbox on board the sunken frigate HMS Hussar, the removal of the sunken hull of USS Missouri at Gibraltar, the raising of the scuttled hull of USS Delaware at Norfolk, and the hunt for the Spanish treasure ship San Pedro de Alcantara lost off the coast of Venezuela. A fascinating footnote story is of Lodner Philipps' Lake Erie salvage boat, the submarine Marine Cigar of 1853.
This book can be read on two levels: an examination of scientific and technological progress during 19th century America or as a case history of the early development of hard hat diving in the United States. If the history of the early days of modern marine salvage is of interest to you, this book is well worth reading.

Charles H. Bogart is a frequent contributor to Naval History Book Reviews.