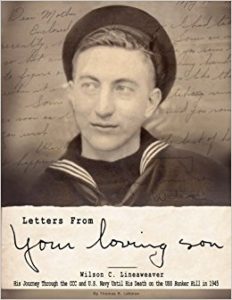 Edited by Thomas R. Lehman, CreateSpace (2017)
Reviewed by Charles H. Bogart
Wilson C. Lineaweaver's life might have been summed up as born 1919 and died 1945, except that his mother saved the over 200 letters he wrote home. These letters, passed down through the family, were recognized by Thomas Lehman, the editor of this book, as offering an intimate view into the life of a member of the "Greatest Generation." The letters Wilson sent home are very pedestriancharacter but provide a wealth of information on the inner-workings of his family. The book is laid out so that a copy of the original letter or correspondence is on the left page of the book while a transcript of that letter is on the right page. The book also contains numerous photographs and copies of various official correspondence relating to Wilson's life between 1937 and 1945.
In 1937, with the Great Depression raging, Wilson at the age of 18 joined the Civilian Conservation Corps (CCC). From his pay of $30 a month, he sent $22 home to help support his parents and brothers. In January 1940, Wilson left the CCC and joined the U.S. Navy. After boot camp at Norfolk, Virginia, he was sent to Radio School. Upon completion of Radio School, he was assigned to VB-8 onboard USS Hornet (CV 8). In October 1942 after Hornet loss, Wilson was sent to California to serve with VGS-37, later VC-37. In October 1943, he went to sea with VC-37 on board USS Sangamon (CVE 26). Wilson, however, as a result of an accident on board Sangamon, spent much of 1944 in the San Diego Naval Hospital. In January 1945, as a Chief Radioman, he was assigned to VB-84 serving on board USS Bunker Hill (CV 17).  He was thus on-board Bunker Hill when she was hit by two Kamikaze aircraft on 11 May 1945 and became one of the 353 sailors who died that day.
I think that what turns this book into an unforgettable one is that the letters Wilson writes home are the letters every sailor has written home. There is nothing in any letter that will cause a historian to proclaim he has found a Rosetta Stone to unlock an understanding of World War II. What the reader is presented within this book is the story of one man and his relationship with his family and fiancée. We learn through his letters of his plans concerning his life after the war is over: marriage and children. However, the reader knows that none of this post-war life will await Wilson as he will die before the war ends. It is the readers' knowing what fate has in store for Wilson as one reads his letters home that makes this book such a poignant read. This book is both military and social history at its best.

Charles H. Bogart is a frequent contributor for Naval History Book Reviews.