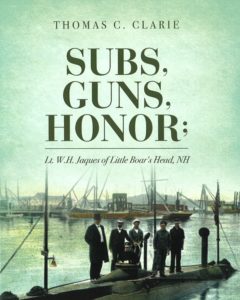 By Thomas C. Clark, CreateSpace Independent Publishing (2017)
Reviewed by Charles Bogart
Who was Lt. William Henry Jaques and why write a book about him? How about the fact that in 1896, upon the election of William McKinley as President of the United States, W. H. Jaques was the odds-on favorite to be Assistant Secretary of the Navy in the McKinley Administration, not Teddy Roosevelt. It was only due to political deal-making by those supporting Teddy Roosevelt that Jacques lost his bid for this office. Jaques was, therefore, a man who almost changed American political and military history. How Jaques rose to this height of national political popularity in 1896, only to become today a forgotten footnote in U.S. history, is the heart of this book.
Jaques, sometimes spelled Jacques, graduated from the U.S. Naval Academy in 1867. He would become internationally known during the years leading up to World War I as an innovating ordnance engineer and naval architect. He served from 1880 to 1885 as the Navy's Assistant Inspector of Ordnance, Secretary to the U.S. Senate Committee on Ordnance, and as a member of the Gun Foundry Board. In 1886, he left the Navy and went to Bethlehem Steel where he worked to perfect modern ship armor. Here he introduced the United States to fluid compression and the hydraulic forging of steel. In 1894, Jaques left Bethlehem Steel and did consulting work for Japan for which he received the Order of the Rising Sun. By 1895, Jaques' interest had expanded to include torpedoes and submarines and, in that year, he became Commander New Jersey Naval Reserves.  In 1897, Jaques became President of the Holland Torpedo Boat Company and helped perfect the Holland Submarine. He did not see service during the Spanish American War but used the war to promote the development of submarines and torpedo boats.
The years between 1900 and 1916 saw Jaques investigating subjects beyond naval engineering. Among the topics he researched was the use of solar power. In his spare time, he was the Hampton Water Works Company's engineer and served on the Board of Visitors to the Naval Academy. In 1916, he traveled to England for unknown reasons and shortly after arrival was killed by a train under circumstances never resolved.
Overall, the book is an interesting and educational read of a Victorian-era American engineer; however, it suffers from the fact that the author based most of the biographical story on secondary sources. The book could have used an editor to keep the text focused on Jaques, as it is peppered with items of interest that are not central to the story. Footnotes should have recorded these non-pertinent facts. In addition, the book needs an index. Despite these quibbles, the book is a fascinating look at American naval engineering at the end of the 19th century.

Charles H. Bogart is a frequent contributor to Naval History Book Reviews.