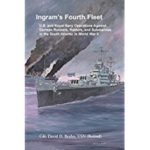 Ingram's Fourth Fleet: U.S. and Royal Navy Operations Against German Runners, Raiders, and Submarines in the South Atlantic in World War II
By Cdr. David D. Bruhn, USN (Ret.). Heritage Books, Berwyn Heights, MD, (2017)
Reviewed by Charles Bogart
Commander Bruhn has crafted an excellent introductory book about an important but forgotten theater of naval warfare in World War II, a theater of war whose story up to now has never been adequately told. The United States Navy's Fourth Fleet, as the author points out, is the Navy's forgotten fleet of World War II. Between 1942 and 1945, the Fourth Fleet's ships and aircraft patrolled the empty waters of the South Atlantic Ocean west of Ascension Island between the latitudes of 10 North and 42 South. Within this ocean area, the ships and aircraft of the Fourth Fleet sought to interdict Axis merchant ships sailing between Japan and Germany, destroy German merchant ship raiders, and sink German, Italian, and Japanese submarines.
The author uses the first section of his book to set the stage for the activation of Fourth Fleet by telling the story of the war at sea in the South Atlantic from 1939 to 1942. Involved in this war were ships and aircraft of Germany, Great Britain, France, and the United States. The United States Navy between 1939 and 1942 was involved in conducting Neutrality Patrols in the South Atlantic.
The United States Navy in the South Atlantic, under the command of Rear Admiral Jonas H. Ingram, operated from December 1941 to September 1942 as Task Force 23; from September 1942 to March 1943 as South Atlantic Force; and from March 1943 to April 1945 as Fourth Fleet. During the course of World War II, the Fourth Fleet had only two commanding officers, Vice Admiral Jonas H. Ingram, September 1942 to November 1944, and Vice Admiral William R. Munroe, November 1944 to April 1945. Operating under the command of Fourth Fleet were a collection of British, Brazilian, and American Navy ships and patrol aircraft. The majority of the ships and aircraft of the Fourth Fleet during their wartime service never encountered an enemy ship or submarine. In all, aircraft and ships of the Fourth Fleet during World War II sank eighteen German submarines, one Italian submarine, six German blockade runners, and one German merchant raider.
The heart and soul of this book are the accounts of each of the successful operations that resulted in sinking a submarine or the intercepting of a blockade runner. The author has done a creditable job of bringing to light the battles of the Fourth Fleet. A book still needs to be written on subjects the author touches on but does not explore: base development, joint service command, and diplomatic relations with Brazil. This book fills a gaping hole in the account of the Battle of the Atlantic and needs to be read by all World War II naval historians.
Charles H. Bogart is a frequent contributor to Naval History Book Reviews.