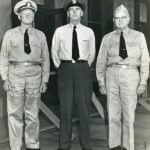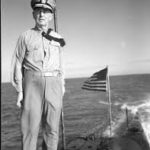 The Fleet Admiral Leadership Seminar and Roundtable
With the 75th anniversary of the creation of the rank of Fleet Admiral next year, and in conjunction with a Five-Star Mess Night scheduled for the Saturday May 19  NHF members and friends are invited to attend an informative and thought-provoking morning on Wednesday, May 16, to discuss the four naval officers who attained the rank of Fleet Admiral: William D. Leahy, Ernest J. King, Chester W. Nimitz, and William F. Halsey Jr.
Join us at the Navy Museum for presentations by some of this country's most established and up-and-coming naval historians and commentary from some of our Navy's most distinguished leaders.
The Fleet Admiral Leadership Seminar and Roundtable with opening comments from our President RAdm. Bud Langston who will provide opening comments on the appreciation these men had for naval history and their connection to the Naval Historical Foundation. After World War II, Fleet Admirals King and Nimitz served as the president and vice president and led a capital campaign to build an NHF naval museum in Washington and succeeded with the opening of the Truxtun-Decatur Museum across from the White House in 1950. By that time Fleet Admiral Leahy had left the White House after serving both Presidents Roosevelt and Truman to succeed King in 1949. He would serve as the NHF's president for the next ten years. Fleet Admiral Halsey would serve as vice president during that timeframe.
Rear Admiral Langston then introduce the five featured presenters: David A. Rosenberg of the Institute for Defense Analyses, Scott Mobley of the U.S. Naval Academy, David Kohnen of the Naval War College, James D. Hornfischer, a noted World War II naval historian, and Thomas Hughes from Air University located at Maxwell Air Force Base in Alabama.
Dr. David Rosenberg, a retired naval intelligence officer who attained his doctorate from the University of Chicago before holding faculty positions at the Naval War College, Temple University, and the National War College, will first discuss the uniqueness of the five-star rank in the United States military and place it in context with other nations such as Great Britain and Russia. As a scholar of Admiral Arleigh Burke, Rosenberg has been able to gather insights on all four individuals and will highlight very contrasting personalities and backgrounds, summarizing the careers of the four fleet admirals.
The audience will then be treated to presentations on each of these remarkable individuals. Dr. Scott Mobley, a retired surface warfare officer who recently earned his doctorate from the University of Wisconsin, is author of the forthcoming Progressives in Navy Blue with the Naval Institute Press. For his case study Mobley will discuss the summer of 1912, when then Lieutenant Commander Leahy teamed up with U.S. Consul James W. Johnson to exercise military rule in Corinto, a city on Nicaragua's northwest Pacific coast. Normally an obscure entrepot, Corinto vaulted to importance as a landscape for intervention and logistics hub supporting over 2,000 U.S. sailors and marines sent ashore to protect American interests and prop up a tottering Nicaraguan regime wracked by internal revolt. During his six-week tenure as military governor of Corinto, Leahy recorded details and impressions of events, personalities, and U.S. policies in a personal diary. Mobley will compare Leahy's views with those of his contemporaries and offer some surprisingly nuanced results. Mobley will conclude that these insights shed light on the ideas and influence later fostered by Leahy as the nation's first Fleet Admiral, Chairman of the Joint Chiefs of Staff, and informal national security advisor to Presidents Roosevelt and Truman during World War II and the early Cold War.
Dr. David Kohnen, the new director of the recently established John Hattendorf Center for History at the Naval War College, earned his doctorate at Kings College London and is currently writing a biography on Fleet Admiral King titled Two Kings and the Navy "Second to None": the U.S. Navy and Fleet Admiral Ernest J. King in the Fifty Years War for Command at Sea, 1897-1947.  With the ongoing centennial of World War I, Kohnen has been exploring the command relationships that evolved after America entered that conflict in April, 1917 shortly after the arrival of William S. Sims in London. Those command relationships certainly influenced a young Cdr. Ernest J. King serving as a staff officer under Commander-in-Chief Atlantic Fleet, VAdm. Henry T. Mayo. Whereas during World War I the United States Navy was quick to align itself and come under British operational control, Kohnen, at a conference in the U.K. in 2016 would proclaim the USN in World War II would truly be a "King's Navy."
James D. Hornfischer is not a biographer, but someone who offers biographical portraits as a storytelling component in such award-winning World War II narratives as The Last Stand of the Tin Can Sailors, Ship of Ghosts, Neptune's Inferno, and his most recent The Fleet at Flood Tide. One common denominator in all of these books is Chester W. Nimitz, who took command of the U.S. Pacific Fleet shortly after the Japanese attack on Pearl Harbor and stayed in command until the end of the war. Hornfischer promises to offer some unique perspectives on the attributes leading to Nimitz being such a spectacularly successful theater commander.
Dr. Thomas Hughes, having earned his doctorate from the University of Houston, is the author of the recently published biography Admiral Bill Halsey: A Naval Life from Harvard University Press. Hughes looks at the years 1914 to 1922, when Halsey served in destroyers, much of the time under the direction of Admiral Williams Sims, one of the Navy's greatest reformers. Hughes argues that aboard destroyers and with Sims, Halsey learned most of what he ever would of naval fighting, of command, and of leadership. With destroyers, he developed an appetite for the controlled melee, a schema that had atrophied in the era of formalist battleship tactics.  Under Sims, he acquired a subtle command hand and a supple sense of leadership, coming to understand that while the writ of command came by fiat from above, the warrant of leadership was bestowed only from below, and to value the latter more than the former.
Following the presentations and a short break, Dr. Rosenberg will invite the presenters and some contemporary naval leaders to join a roundtable discussion. Naval Academy Superintendent VAdm. Walter E. Carter, Jr., and Director of Naval History retired RAdm. Samuel J. Cox have accepted invitations to join with the presenters on a roundtable panel moderated by Rosenberg who will then challenge the panel to connect these career stories to contemporary experiences in the fleet today and how these perspectives can enlighten naval leadership in the 21st century.