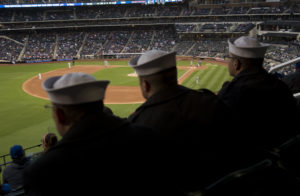 Invitation to the Naval Historical Foundation's Annual Meeting
Batter Up!
WHO:   Valued Members of NHF
WHEN: Saturday, June 2nd, 2018
TIME:   11:30 a.m. Check in and lunch
             12:00 p.m. to 1:30 p.m. Annual Meeting
             1:30  Tour "Playball!" exhibit
COST:   $10 to cover the cost of lunch
Please join us on Saturday, June 2nd for NHF's Annual Membership Meeting at the historic Washington Navy Yard. This year we will be celebrating the long-standing relationship between Major League Baseball (MLB) and the military.
Mark Weber, Director of the National Museum of the United States Navy, will talk about our new "Playball" exhibit and baseball in the Navy.

Following the meeting, there will be time to tour the "Playball!" exhibit and the rest of the museum.

Lastly, MLB has provided tickets to the All-Stars game on July 17th for NHF to raffle off. Each contribution of $100 gives you one chance to win a pair of tickets. Give $500 and you will have five chances to win! The winner will be announced as soon as 100 chances have been sold.
Read-ahead documents for the annual meeting, including NHF's annual report and financial statements will be posted on our website, navyhistory.org. Printed copies will be available at the meeting.
If you need access to the Washington Navy Yard, please indicate below or in your online registration, and we will send you the appropriate form to complete. For questions, please contact our Event Manager Shannon Cody at [email protected] or 202-930-5245.